Last of the Irvine Volvo Fls
16th November 1985
Page 20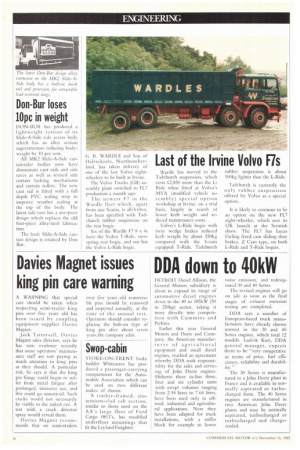 Page 20, 16th November 1985 —
Last of the Irvine Volvo Fls
Close
Wardle has moved to the Tadchurch suspension, which costs £2,850 more than the LRide when fated at Volvo's MVA (modified vehicle assembly) special option workshop at Irvine, on a trial basis, largely in search of lower kerb weight and reduced maintenance costs.
Volvo's L-Ride bogie with twin wedge brakes reduced kerb weight by about 550kg compared with the S-cam equipped T-Ride. Tadchurch rubber suspension is about 100kg lighter than the L-Ride.
Tadchurch is currently the only rubber suspension offered by Volvo as a special option.
It is likely to continue to be an option on the new FL.7 eight-wheeler, which sees its UK launch at the Scottish show. The Eli has Lucas Girling fixed cam sliding shoe brakes, Z Cam type, on both 1-Ride and T-Ride bogies.