DDA down to 40kW
16th November 1985
Page 20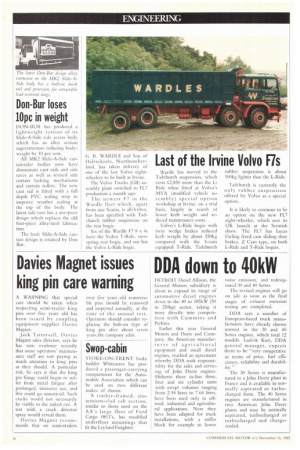 Page 20, 16th November 1985 —
DDA down to 40kW
Close
DI I ROEI Diesel Allison, the General Motors subsidiary is about to expand its range of automotive diesel engines down to the 40 to 185kW (50 to 250hp) sector, taking it more directly into competition with Cummins and Perkins.
Earlier this year General Motors and Deere and Company, the American manufacturer of agricultural equipment and small diesel engines, reached an agreement whereby DDA took responsinility for the sales and servicing of John Deere engines. Hitherto these in-line three, four and six cylinder units with swept volumes ranging from 2.94 litres to 7.64 litres, have been used only in offroad, industrial and agricultural applications. Now they have been adapted for truck installations, with a stiffer block for example to lower noise emission, and redesignated 30 and 40 Series.
The revised engines will go on sale as soon as the final stages of exhaust emission testing are completed.
DDA says a number of European-based truck manufacturers have already shown interest in the 30 and 40 Series engines, which total 12 models. Ludvik Koci, DDA general manager, expects them to be "very competitive in terms of price, fuel efficiency, reliability and durability.
The 30 Series is manufactured in a John Deere plant in France and is available in normally aspirated or turbocharged form. The 40 Series engines are manufactured in two American John Deere plants and may be normally aspirated, turbocharged or turbocharged and chargecooled.