Davies Magnet issues king pin care warning
16th November 1985
Page 20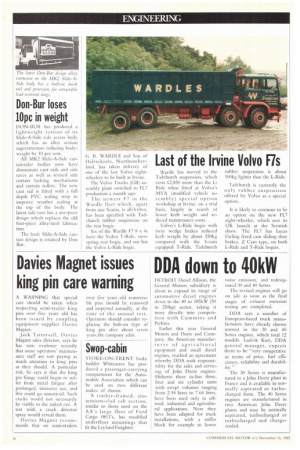 Page 20, 16th November 1985 —
Davies Magnet issues king pin care warning
Close
A WARNING that special care should be taken when inspecting semi-trailer king pins over five years old has been issued by coupling equipment supplier Davies Magnet.
Jack Tattersall, Davies Magnet sales director, says he has seen evidence recently that some operators' maintenance staff are not paying as much attention to king pins as they should. A particular risk, he says is that the king pin flange could begin to suffer from metal Fatigue after prolonged, intensive use, and this could go unnoticed. Such cracks would not necessarily be visible to the naked eye. A test with a crack detector spray would reveal them.
Davies Magnet recommends that on semi-trailers over five years old removeable pins should be removed and inspected annually, at the time of the annual test. Operators should consider replacing the bolt-on type of king pin after about seven years, the company adds.