At last
16th November 1985
Page 16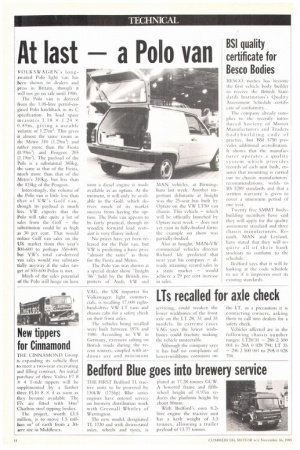 Page 16, 16th November 1985 —
At last
Close
VOLKSWAGEN's longawaited Polo light van has been shown to dealers and press in Britain, though it will not go on sale until 1986.
The Polo van is derived from the 1.05-litre petrol-engined Polo hatchback in its C specification. Its load space measures 1.18 x 1.24 X 0.89m, giving a useable volume of 1.27E113. This gives it almost the same room as the Metro 310 (1.29m3) and rather more than the Fiesta (0.99m3) and Peugeot 205 (1.19m3). The payload of the Polo is a substantial 385kg, the same as that of the Fiesta, much more than that of the Metro's 310kg, hut less than the 415kg of the Peugeot.
Interestingly, the volume of the Polo van is little less than that of VW's Golf van, though its payload is much less. VW expects that the Polo will take quite a lot of sales from the Golf — the substitution could be as high as 30 per cent. That would reduce Golf van sales on the UK market from this year's 500-600 to perhaps 350-400, but VW's total car-derived van sales would rise substantially anyway if the sales target of 500-600 Polos is met.
Much of the sales potential of the Polo will hinge on how
soon a diesel engine is made available as an option. Ar the moment, it will only be available in the Golf, which derives much of its market success from having the opdon. The Polo van appears to be fairly practical. though its wooden forward load restraint is very flimsy indeed.
No prices have yet been released for the Polo van, but VW is predicting a basic price "almost the same" as those for the Fiesta and Metro.
The Polo van was shown at a special dealer show "Insight '86" held by the British importers of Audi, VW and
VAG, the UK importer for Volkswagen light commercials, is recalling 17,000 righthand-drive VW LT vans and chassis cabs for a safety check on their front axles.
The vehicles being recalled were built between 1976 and 1980. According to VW in Germany, excessive salting on British roads during the recent winters, coupled with arduous use and minimum MAN vehicles, at Birmingham last week. Another important debutante at Insight was the 25-seat bus built by Optare on the VW LT50 van chassis. This vehicle — which will be officially launched by Optare next week — does not yet exist in fully-bodied form: the example on show was partially-bodied.
Also at Insight, MAN-VW commercial vehicles director Richard 1de predicted that next year his company — already attaining record sales in a static market — would achieve a 29 per cent increase in sales.