a Polo va n BSI quality 11 certificate for 11 certificate for
16th November 1985
Page 16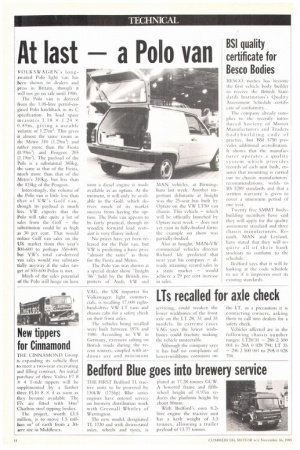 Page 16, 16th November 1985 —
a Polo va n BSI quality 11 certificate for 11 certificate for
Close
Besco Bodies
BESCO oodles has become the first vehicle body builder to receive the British Standards Institution's Quality Assessment Schedule certificate of conformity.
The company already complies to the recently introduced Society of Motor Manufacturers and Traders bodybuilding code of practice, but BSI 5750 provides additional accreditation. It shows that the manufacturer operates a quality system which provides records of each unit built, ensures that mounting is carried out to chassis manufacturers' reeornmendations, welds to BS 5289 standards and that a written warranty is given to cover a minimum period of ()lie year.
Twenty five SMMT bodybuilding members have said they will apply for the quality assessment standard and three chassis manufacturers. Renault. MAN and Leyland, have stated that they will require all of their bank stockists to conform to the schedule.
Bedford says that it will be looking at the code schedule to see if it improves over its existing standards.