Systemline separates
16th November 1985
Page 15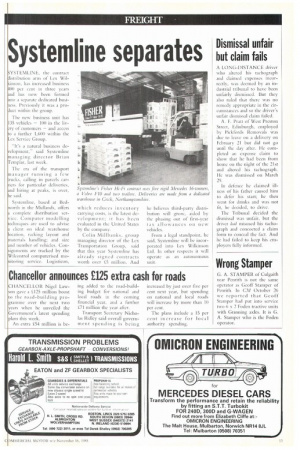 Page 15, 16th November 1985 —
Systemline separates
Close
SYSTEM UN E., the contract distribution arm of Lex Wilkinson, has increased business 400 per cent in three years and has now been formed into a separate dedicated busiAess. Previously it was a product within the group.
The new business unit has 135 vehicles — 100 in the livery of customers — and access to a further 1,600 within the Lex Service Group.
"It's a natural business development,said Systemline managing director Brian Templar, last week.
The era of the transport manager running a few trucks, calling in parcels carriers for particular deliveries, and hiring at peaks, is over, he said.
Systemline, based at Bedworth in the Midlands, offers pa complete distribution serrvicu. Computer modelling pechniques are used to advise a client on ideal warehouse location, racking layout and materials handling; and size ind number of vehicles. Consignments are tracked by the Wileontrol computerised monitoring service. Logisticon,
which reduces inventory carrying costs, is the latest de velopm it has been evaluated in the United States by the company.
Cohn Millbanks, group managing director of the Lex Transportation Group, said that this year Systemline has already signed contracts worth over %:5 million, And
he believes third-party distribution will grow, aided by the phasing OM of First-year tax allowances on new vehicles.
From a legal standpoint, he said. Systemline will be incorporated into Lex Wilkinson Ltd. In other respects it will operate as an autonomous unit.