Roads: 'action now'
16th November 1985
Page 14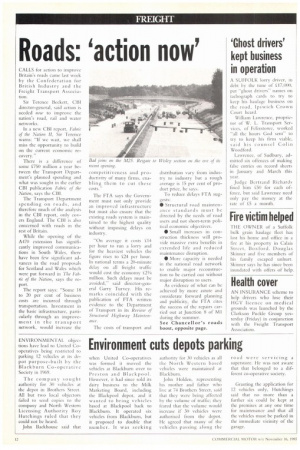 Page 14, 16th November 1985 —
Roads: 'action now'
Close
CALLS for Action to improve Britain's roads came last week by the Confederation for British Industry and the Freight Transport Association.
Sir Terence Beckett, CBI director-general, said action is needed now to improve the nation's road, rail and water networks.
In a new CBI report, Fabric of the Nation II, Sir Terence warns: "If we wait, we shall miss the opportunity to build on the current economic recovery."
There is a difference of some £750 million a year between the Transport Department's planned spending and what was sought in the earlier CBI publication Fabric of the Nation, says the CBI.
The Transport Department spending on roads, and therefore much of the analysis in the 011 report, only covers England. The CBI is also concerned with roads in the rest of Britain.
While the opening of the A470 extension has significantly improved communications in South Wales, there have been few significant advances in the road proposals for Scotland and Wales which were put forward in The Fabric of the Nation, says the report.
The report says: "Some 18 to 20 per cent of business costs are incurred through transportation. Investment in the basic infrastructure, particularly through an improvement in the transport network, would increase the competitiveness and productivity of many firms, enabling them to cut these costs."
The FTA says the Governmerit must not only provide an improved infrastructure but must also ensure that the existing roads system is maintained to the highest quality without imposing delays on industry.
"On average it costs £14 per hour to run a lorry and for the heaviest vehicles the figure rises to £24 per hour. In national terms a 20-minute delay on all freight traffic would cost the economy £21/4 million. Such delays must be avoided," said director-general Garry Turvey. His remarks coincided with the publication of FTA written evidence to the Department of Transport in its Review of Structural Ilighway Maintenance.
distribution vary from industry to industry but a rough average is 15 per cent of product price, he says.
To reduce delays FTA suggests: • Structural road maintenance standards must be directed by the needs of road users and not short-term political economic objectives.
• Small increases in construction thickness will provide massive extra benefits in extended life and reduced maintenance disruption.
• More capacity is needed in the national road network to enable major reconstruction to be carried out without major disruption to users.
As evidence of what can be achieved by more astute and considerate forward planning and publicity, the FTA cites the success of the repairs carried out at Junction 8 of MI during the summer.
See Chancellor's roads boost, opposite page.