Environment cuts depots parking
16th November 1985
Page 14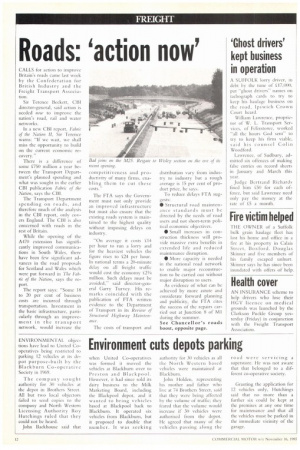 Page 14, 16th November 1985 —
Environment cuts depots parking
Close
ENVIRONMENTAL objections have lead to United Cooperatives being restricted to parking 12 vehicles at its depot purpose-built by the Blackburn Co-operative Society in 1969.
The company sought authority for 30 vehicles at the depot in Brothers Street. All but two local objectors failed to send copies to the company and North Western Licensing Authority Roy Hutchings ruled that they could not be heard.
John Back house said that when United Co-operatives was formed it moved the vehicles at Blackburn over to Preston and Blackpool. However, it had since sold its dairy business to the Milk Marketing Board, including the Blackpool depot, and it wanted to bring vehicles based at Blackpool back to Blackburn. It operated six vehicles from Blackburn, but it proposed to double that number. It was seeking authority for 30 vehicles as all the North Western based vehicles were maintained at Blackburn.
John Holden, representing his mother and father who live at 74 Brothers Street, said that they were being affected by the volume of traffic; they feared that the volume would increase if 30 vehicles were authorised from the depot. He agreed that many of the vehicles passing along the road were servicing a superstore. He was not aware that that belonged to a different co-operative society.
Granting the application for 12 vehicles only, Hutchings said that no more than a further six could be kept at the premises at any one time for maintenance and that all the vehicles must be parked in the immediate vicinity of the garage.