lo-favours' river's sacking ; upheld
16th November 1985
Page 13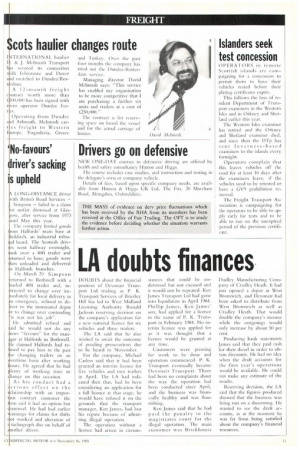 Page 13, 16th November 1985 —
lo-favours' river's sacking ; upheld
Close
LONG-DISTANCE driver rith British Road Services — Simpson — failed in a claim itunfair dismissal at GlasDW, after service from 1973 rail May this year.
.1 he company ferried goods Dm HaWords' main base at odditch, an industrial tribalheard. The Scottish driv s went halfway overnight, ok over a 40ft trailer and turned to base; goods were en unloaded and delivered Halliards branches.
On March 29 Simpson !turned to Bothwell with a ,aded 40ft trailer and, inminted to change over imLediarely for local delivery in emergency, refused to clever to the nominated depot to change over contending t was not his job".
Ile admitted refusal and id he would not do any ore "favours" for the man;er at Halfords in Bothwell. e claimed Hallords had reset' to pay him in the past 1changing trailers on an lertime basis after working mrs. He agreed that he had enty of working rime to Lange on this occasion.
As his conduct had a -iotis effect on the lationship with an imporat contract customer the .m said it had no option but smissal. He had had earlier arnings for claims for shifts it worked and alteration of Tachograph disc on behalf of other driver.