Wynns/Sunters Dow's Elm suit against TNT
16th November 1985
Page 12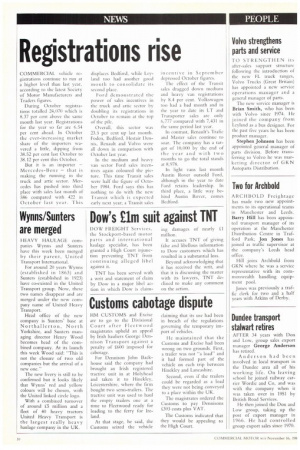 Page 12, 16th November 1985 —
Wynns/Sunters Dow's Elm suit against TNT
Close
are merged
HEAVY HAULAGE companies Wynns and Sunters have this week been merged by their parent, United Transport International.
For around 20 years Wynns (established in 1863) and Sunters (established in 1923) have co-existed in the United Transport group. Now, these two names disappear and are merged under the new company name of United Heavy Transport.
Head office of the new company is Sunters' base at Northallerton, North Yorkshire, and Sunters managing director Henry Wood becomes head of the combined company. At its launch this week Wood said: "This is not the closure of two old companies but the arrival of a new one."
The new livery is still to be confirmed but it looks likely that Wynns' red and yellow colours will be chosen, with the United linked circle logo.
With a combined turnover of around £3 million and a fleet of 40 heavy tractors United Heavy Transport is the largest really heavy haulage company in the UK. 1)0W FREIGHT Services. the Stockport-based motor parts and international haulage specialist, has been granted a High Court injunction preventing TNT from continuing alleged libel against it.
TNT has been served with a writ and statement of claim by Dow in a major libel action in which Dow is claim mg damages of nearly £1 million.
It accuses TNT of giving false and libellous information to Dow customers which has resulted in a substantial loss.
Beyond acknowledging that it has received the writ, and that it is discussing the matter with its lawyers, TNT declined to make any comment on the action.