Registrations rise
16th November 1985
Page 12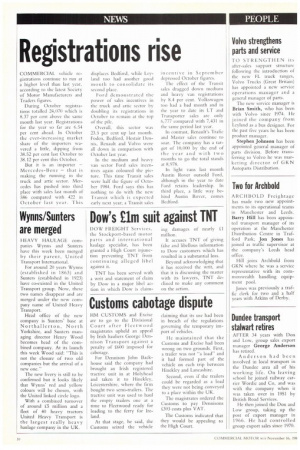 Page 12, 16th November 1985 —
Registrations rise
Close
COMMERCIAL vehicle registrations continue to run at a higher level than last year, according to the latest Society of Motor Manufacturers and Traders figures.
During October registrations totalled 24,070 which is 8.37 per cent above the same month last year. Registrations For the year so far are 6.54 per cent ahead. In October the ever-increasing market share of the importers wavered a little, dipping from 38.52 per cent last October to 38.12 per cent this October.
But it is an importer — Mercedes-Benz — that is making the running in the truck and artic sector. Mercedes has pushed into third place with sales last month of 586 compared with 422 in October last year. This displaces Bedford, while Leyland too had another good month to consolidate its second place.
Ford demonstrated the power of sales incentives in the truck and artic sector by doubling its registrations in October to remain at the top of the pile.
Overall, this sector was 23.5 per cent up last month. Foden, Bedford, Hestair DenMs, Renault and Volvo were all down in comparison with October last year.
In the medium and heavy van sector Ford sales incentives again coloured the picture. This time Transit sales were half the figure of October 1984. Ford says this has nothing to do with the new Transit which is expected early next year; a Transit sales incentive in September depressed October figures.
The effect of the Transit sales dragged down medium and heavy van registrations by 8.4 per cent. Volkswagen too had a bad month and in the year to date its LT and • Fransporter sales are only 6,777 compared with 7,431 in the same period last year.
In contrast, Renault's Trafic and Master sales continue to
soar. The company has a target of 10,000 by the end of the year and with two months to go the total stands at 8,978.
In light vans last month Austin Rover outsold Ford, although in the year to date Ford retains leadership. In third place, a little way behind Austin Rover, comes Bedford.