It's up to you
16th March 1985
Page 8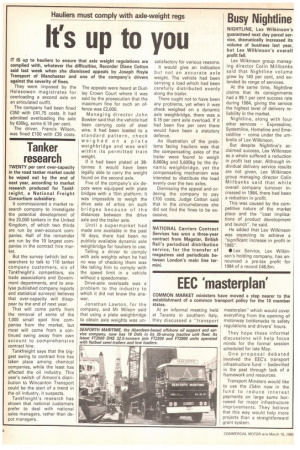 Page 8, 16th March 1985 —
It's up to you
Close
IT IS up to hauliers to ensure that axle weight regulations are complied with, whatever the difficulties, Recorder Diane Cotton said last week when she dismissed appeals by Joseph Hoyle Transport of Manchester and one of the company's drivers against the severity of fines.
They were imposed by the Halesowen magistrates for overloading a second axle on an articulated outfit The company had been fined £350 with £41.75 costs. It had admitted overloading the axle by 630kg, some 6.19 per cent.
The driver, Francis Wilson, was fined £100 with £35 costs. The appeals were heard at Dudley Crown Court where it was said by the prosecution that the maximum fine for such an offence was £2,000.
Managing director John Bowker said that the vehicle had been carrying coils of steel wire. It had been loaded to a standard pattern, check weighed on a plate weighbridge and was well within its permitted train weight.
If it had been plated at 38tonnes it would have been legally able to carry the weight found on the second axle.
Five of the company's six depots were equipped with plate bridges with a 15m platform. It was impossible to weigh the drive axle of artics on such bridges because of the distances between the drive axle and the trailer axle.
Until a supermarket had made one available in the past 10 days, there had been no publicly available dynamic axle weighbridge for hauliers to use.
Telling a driver to comply with axle weights when he had no way of checking them was like telling him to comply with the speed limit in a vehicle without a speedometer.
Drive-axle overloads was a problem to the industry to which it did not know the answer.
Jonathan Lawton, for the company, and Mr Wilson said that using a plate weighbridge to obtain axle weights was un
satisfactory for various reasons.
It would give an indication but not an accurate axle weight. The vehicle had been carrying a load which had been carefully distributed evenly along the trailer.
There ought not to have been any problems, yet when it was check weighed on a dynamic axle weighbridge, there was a 6.19 per cent axle overload. If it had been five per cent there would have been a statutory defence.
An illustration of the problems facing hauliers was that the compensating axles of the trailer were found to weigh 8,660kg and 5,600kg by the dynamic weighbridge, yet the compensating mechanism was intended to distribute the load evenly over the two axles.
Dismissing the appeal and ordering the company to pay £100 costs, Judge Cotton said that in the circumstances she did not find the fines to be excessive.