Roads — Govt's big failure
16th March 1985
Page 7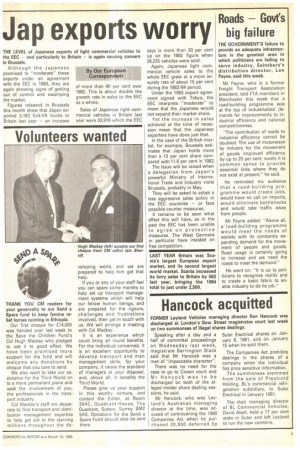 Page 7, 16th March 1985 —
Roads — Govt's big failure
Close
THE GOVERNMENT'S failure to provide an adequate infrastructure is the greatest area in which politicians are failing to serve industry, Sainsbury's distribution director, Len Payne, said this week.
Mr Payne, who is a former Freight Transport Association president, told FTA members in Manchester this week that a road-building programme was at the top of industrialists' demands for improvements to industrial efficiency and national competitiveness.
"The contribution of roads to industrial efficiency cannot be doubted. The use of motorways by industry for the movement of goods improved efficiency by up to 20 per cent; surely it is common sense to provide essential links where they do not exist at present," he said.
He reminded his audience that a road-building programme would create jobs, would have no call on imports, would eliminate bottlenecks and would take traffic away from people.
Mr Payne added: "Above all, a road-building programme would meet the needs of society with its constantly expanding demand for the movement of people and goods. Road usage is certainly going to increase and we need the roads to meet the demand."
He went on: "It is up to politicians to recognise reality and to create a basic fabric to enable industry to do its job."