Jap exports worr
16th March 1985
Page 7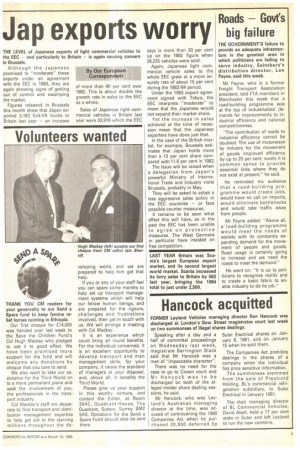 Page 7, 16th March 1985 —
Jap exports worr
Close
THE LEVEL of Japanese exports of light commercial vehicles to the EEC and particularly to Britain — is again causing concern in Brussels.
Although the Japanese promised to "moderate" these exports under an agreement with the EEC in 1983, they are again showing signs of getting Out of control and swamping the market.
Figures released in Brussels this month show that Japan exported 3,183 fork-lift trucks to Britain last year an increase of more than 40 per cent over 1982. This is about double the growth rate in sales to the EEC as a whole.
Sales of Japanese light commercial vehicles in Britain last year were 33,918 which the EEC says is more than 20 per cent up on the 1982 figure when 26,225 vehicles were sold.
Again, Japanese light commercial vehicle sales to the whole EEC grew at a more leisurely rate of about 15 per cent during the 1982/84 period.
Under the 1983 export agreement signed with Tokyo, the EEC interprets "moderate" to mean that the Japanese would not expand their market share.
Yet the increase in sales achieved at the time of recession mean that the Japanese exporters have done just that.
In the case of the British market, for example, Brussels estimates that Japan holds more than a 13 per cent share compared with 11.6 per cent in 1982.
The issue will be raised when a delegation from Japan's powerful Ministry of International Trade and Industry visits Brussels, probably in May.
They will be asked to adopt a less aggressive sales policy in the EEC countries — or face possible counter measures.
It remains to be seen what effect this will have, as in the past the EEC has been unable to agree on protective measures. The West Germans in particular have insisted on free competition.