, xx p A sp 4 THANK YOU YOU CM readers for your
16th March 1985
Page 7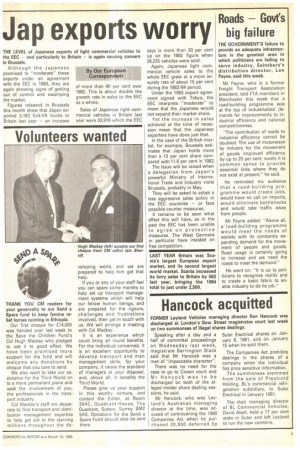 Page 7, 16th March 1985 —
, xx p A sp 4 THANK YOU YOU CM readers for your
Close
generosity to our Send a Spare fund to keep famine relief lorries running in Ethiopia.
Our first cheque for £14000 was handed over last week to the Save the Children Fund's Col Hugh Mackay who pledged to use it to good effect. We have been promised more support for the fund and will welcome any donations by cheque that you care to send.
We also want to take our assistance for the Third World on to a more permanent plane and seek the involvement of you, the professionals in the transport industry.
Col Mackay's staff are desperate to find transport and distribution management expertise to help get aid to the starving millions throughout the de veloping world, and we are prepared to help him get that help.
If you or any of your staff feel you can spare some months to help set up transport management systems which will help our fellow human beings, and are prepared for the rigours, challenges and frustrations involved, then get in touch with us. We will arrange a meeting with Col Mackay.
It is an experience which could bring all round benefits. For the individual concerned, it is an excellent opportunity to develop transport and man management skills; for your company, it raises the standard of managers at your disposal, and, above all, it benefits the Third World.
Please give us your support in this worthy venture, and contact the Editor, at Room 304C, Quadrant House, The Quadrant, Sutton, Surrey SM2 5AS. Donations for the Send a Spare Fund should also be sent there.