Sales decline reverses
16th March 1985
Page 6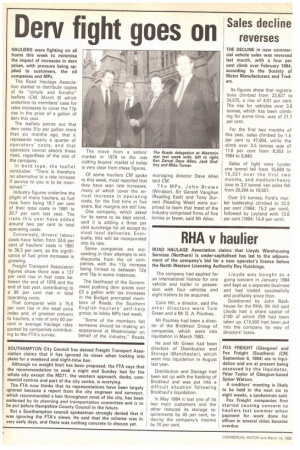 Page 6, 16th March 1985 —
Sales decline reverses
Close
THE DECLINE in new commercial vehicle sales was reversed last month, with a four per cent climb over February 1984, according to the Society of Motor Manufacturers and Traders.
Its figures show that registrations climbed from 23,627 to 24,575, a rise of 4.01 per cent. The rise for vehicles over 3,5 tonnes, which has been climbing for some time, was of 21.1 per cent.
For the first two months of this year, sales climbed by 1.5 per cent to 47,664, while the climb over 3.5 tonnes was of 17.8 per cent from 8,353 in 1984 to 9,840.
Sales of light vans (under one tonne) fell from 15,660 to 15,321 over the first two months, and medium/heavy (one to 3.5 tonne) van sales fell from 20,264 to 19,557.
Over 3.5 tonnes, Ford's market leadership climbed to 22.5 per cent (1984: 15.2 per cent), followed by Leyland with 13.6 per cent (1984: 14.8 per cent).