RHA v haulier
16th March 1985
Page 6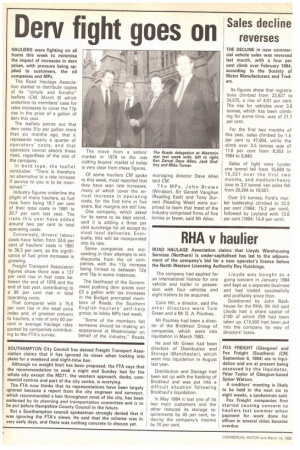 Page 6, 16th March 1985 —
RHA v haulier
Close
ROAD HAULAGE Association claims that Lloyds Warehousing Services (Northern) is under-capitalised has led to the adjournment of the company's bid for a new operator's licence before the North Western Licensing Authority Roy Hutchings.
The company had applied for an international licence for one vehicle and trailer in possession with four vehicles and eight trailers to be acquired.
Colin Hill, a director, said the other directors were Tom Green and a Mr D. A. Poutney.
Mr Poutney had been a director of the Brickhaul Group of companies, which went into liquidation in March 1983.
He and Mr Green had been directors of Distribution and Storage (Manchester), which went into liquidation in August last year.
Distribution and Storage had been set up with the backing of Brickhaul and was put into a difficult situation following Brickhaul's
In May 1984 it lost one of its two main customers and the other reduced its storage requirements by 45 per cent, reducing the company's income by 70 per cent. Lloyds was bought as a going concern in January 1984 and kept as a separate business and had traded successfully and profitably since then.
Questioned by John Backhouse for the RHA, Mr Hill said Lloyds had a share capital of £100 of which £99 had been taken up. [10,500 had been put into the company by way of directors' loans.