Dery fight goes on
16th March 1985
Page 6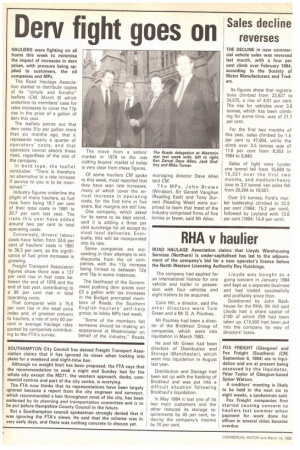 Page 6, 16th March 1985 —
Dery fight goes on
Close
HAULIERS were fighting on all fronts this week to minimise the impact of increases in dery prices, with pressure being applied to customers, the oil companies and MPs.
The Road Haulage Association started to distribute copies of its "simple and forceful" leaflets (CM, March 9) which underline its members' case for rates increases to cover the 17p rise in the price of a gallon of dery this year.
The leaflets points out that dery costs 31p per gallon more than six months ago, that it represents nearly a quarter of operators' costs, and that operators cannot absorb these rises, regardless of the size of the company.
In bold type, the leaflet concludes: "There is therefore no alternative to a rate increase if service to you is to be maintained."
Industry figures underline the plight of many hauliers, as fuel rose from being 18.7 per cent of their total costs in 1981 to 20.7 per cent last year. The rises this year have added around two per cent to total operating costs.
Conversely, drivers' labour costs have fallen from 33.6 per cent of hauliers costs in 1981 to 30.3 per cent, so the significance of fuel price increases is growing.
Freight Transport Association figures show there was a 137 per cent rise in fuel costs between the end of 1978 and the end of last year, contributing to a 90 per cent rise in total operating costs.
That compares with a 75.6 per cent rise in the retail price index and, of greatest concern to hauliers, a rise of only 60 per cent in average haulage rates quoted by companies contributing to the ETA's survey. The move from a sellers' market in 1978 to the rate cutting buyers' market of today is very clear from these figures.
Of some hauliers CM spoke to this week, most reported that they have won rate increases, many of which cover the annual increase in operating costs, for the first time in five years. But margins are still low.
One company, which asked for its name to be kept secret, said it is adding a three per cent surcharge for all except its most local deliveries. Eventually, this will be incorporated into its rate.
Some companies are succeeding in their attempts to win discounts from the oil companies, with the 17p increase being limited to between 12p and 15p in some instances.
The likelihood of the Government pushing dery prices over £2 a gallon with tax increases in the Budget prompted members of Roads, the Southern English hauliers' self-help group, to lobby MPs last week.
"Some of the members felt someone should be making an appearance at Westminster on behalf of the industry," Roads
managing director Dave Allen told CM.
The MPs, John Brown (Windsor), Sir Gerard Vaughan (Reading East) and Tony Durrant (Reading West) were surprised to learn that most of the industry comprised firms of five lorries or fewer, said Mr Allen.