Champagne opportunity for coach operators
16th March 1985
Page 51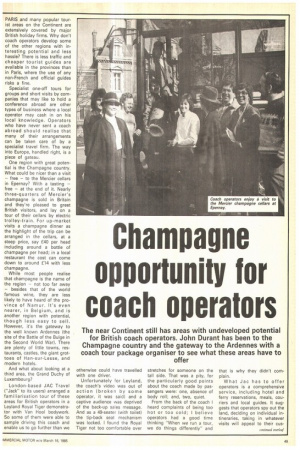 Page 52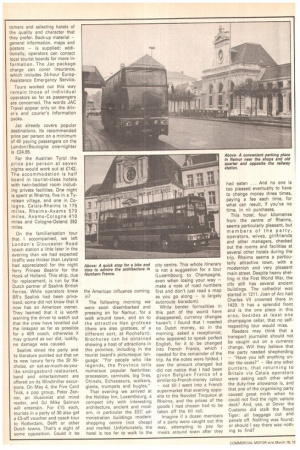 Page 51, 16th March 1985 —
Champagne opportunity for coach operators
Close
The near Continent still has areas with undeveloped potential for British coach operators. John Durant has been to the Champagne country and the gateway to the Ardennes with a coach tour package organiser to see what these areas have to offer
PARIS and many popular tourist areas on the Continent are extensively covered by major British holiday firms. Why don't coach operators develop some of the other regions with interesting potential and less hassle? There is less traffic and cheaper tourist guides are available in the provinces than in Paris, where the use of any non-French and official guides risks a fine.
Specialist one-off tours for groups and short visits by companies that may like to hold a conference abroad are other types of business where a local operator may cash in on his local knowledge. Operators who have never sent a coach abroad should realise that many of their arrangements can be taken care of by a specialist travel firm. The way into Europe, handled right, is a piece of gateau.
One region with great potential is the Champagne country. What could be nicer than a visit — free — to the Mercier cellars in Epernay? With a tasting — free — at the end of it. Nearly three-quarters of Mercier's champagne is sold in Britain and they're pleased to greet British visitors, and lay on a tour of their cellars by electric trolley-train. For up-market visits a champagne dinner as the highlight of the trip can be arranged in the cellars, at a steep price, say £40 per head including around a bottle of champagne per head; in a local restaurant the cost can come down to around £14 with less champagne.
While most people realise that champagne is the name of the region — not too far away — besides that of the world famous wine, they are less likely to have heard of the province of Namur. It's even nearer, in Belgium, and is another region with potential, though less easy to sell. However, it's the gateway to the well known Ardennes (the site of the Battle of the Bulge in the Second World War). There are plenty of little towns, restaurants, castles, the giant grottoes of Han-sur-Lesse, and modern hotels.
And what about looking at a third area, the Grand Duchy of Luxembourg?
London-based JAC Travel ("Jack" to its users) arranged a familiarisation tour of these areas for British operators in a Leyland Royal Tiger demonstrator with Van Hool bodywork. So some of them were able to sample driving this coach and enable us to go further than we otherwise could have travelled with one driver.
Unfortunately for Leyland, the coach's video was out of action (broken by some operator, it was said) and a captive audience was deprived of the back-up sales message. And as a 49-seater (with toilet) the tip-back seat mechanism was locked. I found the Royal Tiger not too comfortable over stretches for someone on the tall side. That was a pity, for the particularly good points about the coach made by passengers were: one, absence of body roll; and, two, quiet.
From the back of the coach I heard complaints of being too hot or too cold; I believe operators had a good time thinking "When we run a tour, we do things differently" and
that is why they didn't complain.
What Jac has to offer operators is a comprehensive service, including hotel and ferry reservations, meals, couriers and local guides. It suggests that operators spy out the land, deciding on individual intineraries, taking in whatever visits will appeal to their cus tomers and selecting hotels of the quality and character that they prefer. Back-up material — general information, maps and posters — is supplied; additionally, operators can contact local tourist boards for more information. The Jac package charge can cover insurance, which includes 24-hour EuropAssistance Emergency Service.
Tours worked out this way remain those of individual operators so far as passengers are concerned. The words JAC Travel appear only on the driver's and courier's information packs.
Jac already covers popular destinations. Its recommended price per person on a minimum of 40 paying passengers on the London/Boulogne one-fighter is £24.95.
For the Austrian Tyrol the price per person at seven nights would work out at £142. The accommodation is half board in tourist-class hotels with twin-bedded room including private facilities. One night is spent at Rheims, five in a Tyrolean village, and one in Cologne. Calais-Rheims is 175 miles, Rheims-Axams 570 miles, Axams-Cologne 410 miles and Cologne-Ostend 292 miles.
On the familiarisation tour that I accompanied, we left London's Gloucester Road coach station a little later in the evening than we had expected (traffic was thicker than Leyland had appreciated) for the night ferry Prinses Beatrix for the Hook of Holland. This ship, due for replacement, is run by the Dutch partner of Sealink British Ferries. While operators knew BR's Sealink had been privatised, some did not know that it now has an American owner. They learned that it is worth warning the driver to watch out that the crew have levelled out the linkspan as far as possible for a 40ft coach, otherwise it may ground as our did; luckily, no damage was caused.
Sealink dined the party and its literature pointed out that on ts new luxury ferry the St Nicholas, an eat-as-much-as-youlike smOrgasbord restaurant, band and entertainment are offered on its Windmiller excursions. On May 4, the Five Card Trick, a pop group, Peter Zenner, an illusionist and mind reader, and DJ Mike Salmon will entertain. For £15 each, tourists in a party of 30 also get a £3-off voucher and coach tour to Rotterdam, Delft or other Dutch towns. That's a sight of some opposition. Could it be
the American influence coming in?
The following morning we were soon disembarked and pressing on for Namur, for a walk around town, and on to the attractive Han grottoes (there are also grottoes, of a different sort, at Rochefort). Brochures can be obtained showing a host of attractions in this province, including in the tourist board's picturesque language: "For people who like legends, the Province tells numerous popular festivities: procession, carnivals, big fires, ChineIs, Echasseurs, walkers, giants, trumpets and bugles."
That evening we arrived at the Holiday Inn, Luxembourg, a compact city with interesting architecture, ancient and modern, in particular the EEC administration buildings modern shopping centre (not cheap) and market. Unfortunately, the hotel is too far to walk to the city centre. This whole itinerary is not a suggestion for a tour (Luxembourg to Champagne, even when losing your way — make a note of road numbers first and don't just read a map as you go along — is largely autoroute boredom).
While border formalities in this part of the world have disappeared, currency changes haven't. I found that I needed no Dutch money, so in the morning, asked a receptionist, who appeared to speak perfect English, for it to be changed into French Francs, which I needed for the remainder of the trip. As the notes were folded, I saw the amount changed but did not notice that I had been given Belgian Francs of a similar-to-French-money colour not till I went into a French supermarket that evening opposite to the Novotel Tinqueux at Rheims, and the prices of the goods I had chosen had to be taken off the till roll.
Imagine if a dozen members of a party were caught out this way, attempting to pay for meals around town after they had eaten .. , And no one is too pleased eventually to have to change money three times, paying a fee each time, for what can result, if you've no time, in nil purchases.
This hotel, four kilometres from the centre of Rheims, seems particularly pleasant, but members of the party, operators, wives, girlfriends and other managers, checked out the rooms and facilities at several other hotels during the trip. Rheims seems a particularly attractive town, with a modernish and very pleasant main street. Despite heavy shelling in the First World War, the city still has several ancient buildings. The cathedral was started in 1211. Joan of Arc had Charles VII crowned there in 1429. It has a splendid front and is the one place in this area, besides at least one champagne cellar, that no selfrespecting tour would miss, Readers may think that a transport journalist should not be caught out on a currency change. Will they believe that the party needed shepherding — "Have you left anything under the seats?" — like any other punters, that returning to Britain via Calais operators were asking each other what the duty-free allowance is, and that one of the organising party caused great mirth when he could not find the right vehicle deck? And, yes, at Dover the Customs did stalk the Royal Tiger: all baggage out and panels off. Nothing was found; or should I say there was noth ing to find?