Eighty years at the top of the league
16th March 1985
Page 5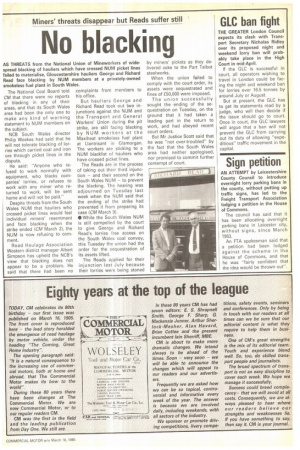 Page 5, 16th March 1985 —
Eighty years at the top of the league
Close
Keywords :
TODAY, CM celebrates its 80th birthday — our first issue was published on March 16, 1905. The front cover is reproduced here — the lead story heralded the emergence of road haulage by motor vehicle, under the heading "The Corning, Great Home Industry".
The opening paragraph said: It is a natural consequence to the increasing use of commercial motors, both at home and abroad, that The Commercial Motor makes its bow to the world".
During these 80 years there have been changes at The Commercial Motor. We are now Commercial Motor, or to our regular readers CM.
CM was the first in the field and the leading publication from Day One. We still are. In these 80 years CM has had seven editors: E. S. Shrapnel, Smith, George F. Sharp, G. Mackenzie Junner, Arthur Sherlock-Mesher, Alan Havard, Brian Cottee and the present incumbent lain Sherriff, MBE.
CM is about to make more dramatic changes. We intend always to be ahead of the times. Soon — very soon — we will be able to announce the changes which will appeal to our readers and our advertisers.
Frequently we are asked how we can be so topical, controversial and informative every week of the year. The answer is because we are involved daily, including weekends, with all sectors of the industry.
We sponsor or promote driving competitions, livery compe
titions, safety events, seminars and conferences. Only by being in touch with our readers at all times can we be sure that our editorial content is what they require to help them in business.
One of CM's great strengths is the mix of its editorial team. Youth and experience blend well. So, too, do skilled transport people and journalists.
The broad spectrum of transport is not an easy discipline to cover each week. We hope we manage it successfully.
Success could breed complacency— that we will avoid at all costs. Consequently, we are always pleased to hear where our readers believe our strengths and weaknesses lie. If you have something to say, then say it. CM is your journal.