Editorial Why rates must rise
16th March 1985
Page 4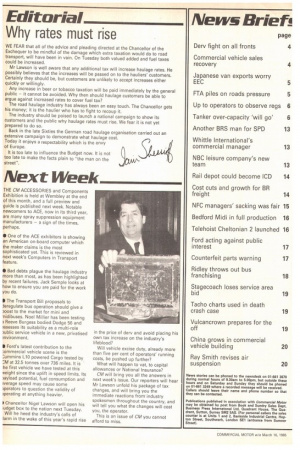 Page 4, 16th March 1985 —
Editorial Why rates must rise
Close
WE FEAR that all of the advice and pleading directed at the Chancellor of the Exchequer to be mindful of the damage which extra taxation would do to road transport, will have been in vain. On Tuesday both valued added and fuel taxes could be increased.
Mr Lawson is well aware that any additional tax will increase haulage rates, He possibly believes that the increases will be passed on to the hauliers' customers. Certainly they should be, hut customers are unlikely to accept increases either quickly or willingly.
Any increase in beer or tobacco taxation will be paid immediately by the general public — it cannot be avoided. Why then should haulage customers be able to argue against increased rates to cover fuel tax?
The road haulage industry has always been an easy touch. The Chancellor gets his money; it is the haulier who has to fight to recoup it.
The industry should be poised to launch a national campaign to show its customers and the public why haulage rates must rise. We fear it is not yet prepared to do so.
Back in the late Sixties the German road haulage organisation carried out an extensive campaign to demonstrate what haulage cost. Today it enjoys a respectability which is the envy of Europe.
It is too late to influence the Budget now. It is not too late to make the facts plain to "the man on the street".