Driver faces charges
16th March 1985
Page 21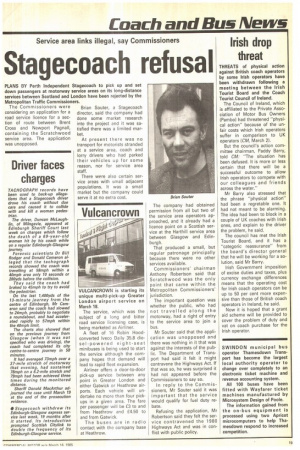 Page 21, 16th March 1985 —
Driver faces charges
Close
Keywords :
Districts Of Scotland
,
Lieutenancy Areas Of Scotland
,
Names
,
Scottish Citylink
,
Stagecoach Group
,
Transport In Scotland
,
Tachograph
,
Edinburgh
,
Stagecoach
,
Milngavie
,
Glasgow
,
Sports
TACHOGRAPH records have been used to back-up allegations that a Stagecoach driver drove his coach without due care and caused it to collide with and kill a woman pedestrian.
The driver, Duncan McLaughlin, of Milngavie, appeared at Edinburgh Sheriff Court last week on charges which follow the death of a 69-year-old woman hit by his coach while on a regular Edinburgh-Glasgow journey.
Forensic scientists Dr Bill Rodger and Donald Cameron alleged that the tachograph records showed the coach was travelling at 58mph within a 40mph area only 10 seconds or 280yds before the collision.
They said the coach had braked to 45mph to try to avoid the pedestrian.
On the last 1,400yds of the 13-minute journey from the centre of Edinburgh, Mr Cameron said the coach had slowed to 24mph, probably to negotiate a roundabout, and had accelerated rapidly to 57mph within the 40mph limit.
The charts also showed that on the previous journey from Glasgow (when it was not specified who was driving), the coach had completed its city centre-to-centre journey in 58 minutes.
It had averaged 73mph over a 37-mile stretch of motorway that evening, had sustained 78mph on a 6.2-mile stretch and 79mph had been achieved three times during the monitored distance.
Sheriff Donald MacArthur adjourned the case until March 19 at the end of the prosecution evidence.
• Stagecoach withdrew its Edinburgh-Glasgow express service last week, 19 months after it started. Its introduction prompted Scottish Citylink to double the frequency of its Edinburgh-Glasgow service.