Hereford hang-u
16th March 1985
Page 20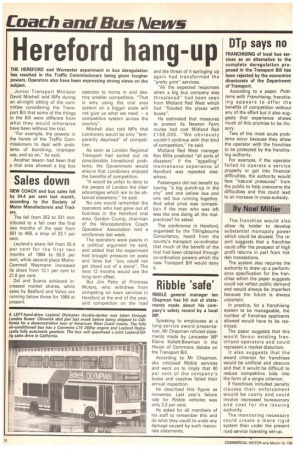 Page 20, 16th March 1985 —
Hereford hang-u
Close
THE HEREFORD and Worcester experiment in bus deregulation has resulted in the Traffic Commissioners being given tougher powers. Operators also have been expressing strong views on the subject.
Junior Transport Minister David Mitchell told MPs during an all-night sitting of the committee considering the Transport Bill that some of the things in the Bill were different from what they would otherwise have been without the trial.
"For example, the powers in the hands of the Traffic Commissioners to deal with problems of bunching, improper use, and so on," he said.
Another lesson had been that a trial area allowed a big bus operator to home in and destroy smaller competitors. "That is why using the trial area system on a bigger scale will not give us what we need — a competitive system across the country".
Mitchell also told MPs that Londoners would be only "temporarily deprived" of competition.
As soon as London Regional Transport had sorted out its considerable transitional problems., the Government would ensure that Londoners enjoyed the benefits of competition.
"It would be unfair to deny to the people of London the clear advantages which are to be obtained elsewhere," he said.
No one would remember the operators who had gone out of business in the Hereford trial area, Gordon Crump, chairman of the Worcestershire Coach Operators' Association told a conference last week.
The operators were pawns in a political argument he said, and added that the experiment had brought pressure on costs and fares but "you could not get blood out of a stone". The next 12 months would see the long term effect.
But Jim Petty of Primrose Motors, who withdrew from competing on town services in Hereford at the end of the year, said competition on the road and the threat of it springing up again had transformed the "pretty grim" services.
"All the expected responses when a big bus company was threatened" had been seen from Midland Red West which had "flooded the places with buses".
He estimated that measures to protect its Newton Farm routes had cost Midland Red E1 68,00 0. "We obviously couldn't continue with that kind of competition," he said.
Midland Red West manager Ken Mills predicted "all sorts of disasters" if the "appalling" maintenance experience of Hereford was repeated elsewhere.
Passengers did not benefit by having "a big punch-up in the city" and one yellow bus and one red bus running together. And what price was competition if the man who was left was the one doing all the malpractices? he asked.
The conference in Hereford, organised by the Tillingbourne Consultancy, heard from the county's transport co-ordinator that much of the benefit of the trial had been obtained through co-ordination powers which the new Transport Bill would deny It.