Dip says no
16th March 1985
Page 20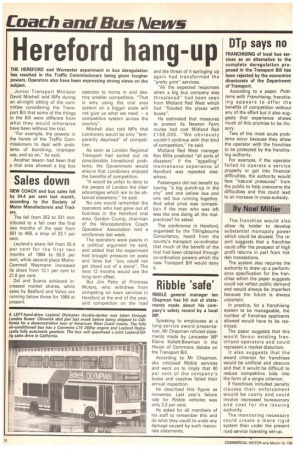 Page 20, 16th March 1985 —
Dip says no
Close
By Noel Millier
FRANCHISING of local bus services as an alternative to the complete deregulation proposed in the Transport Bill has been rejected by the economics directorate of the Department of Transport.
According to a paper, Problems with Franchising, franchising appears to offer the benefits of competition without any of the effort but it also suggests that experience shows much of this promise to be illusory.
Two of the most acute problems occur because they allow the operator with the franchise to be protected by the franchising authority.
For example, if the operator failed to operate a service properly or got into financial difficulties, the authority would face "natural pressures" from the public to help overcome the difficulties and this could lead to an increase in cross-subsidy.
The franchise would also allow its holder to develop substantial monopoly power which could be abused. The report suggests that a franchise could offer the prospect of high profit returns in part from hidden transactions.
The system also requires the authority to draw up a performance specification for the franchise which the paper suggests could not reflect public demand and would always be imperfect because the future is always uncertain.
In practice, for a franchising system to be manageable, the number of franchise applicants allowed would have to be restricted.
The paper suggests that this would favour existing franchised operators and could represent a market distortion.
It also suggests that the award criterion for franchises would be artificial and obscure and that it would be difficult to reduce competitive bids into the form of a single criterion.
If franchises included penalty clauses their enforcement would be costly and could involve increased bureaucracy and cost for the issuing authority.
The monitoring necessary could create a more rigid system than under the present road service licensing set-up.