Cheltonian launched
16th March 1985
Page 18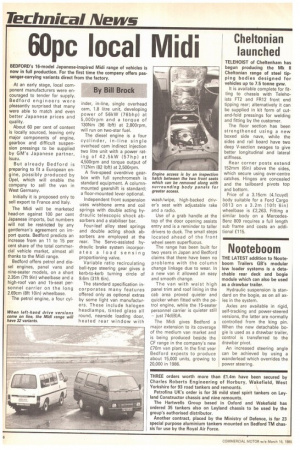 Page 18, 16th March 1985 —
Cheltonian launched
Close
TELEHOIST of Cheltenham has begun producing the Mk II Cheltonian range of steel tipping bodies designed for vehicles up to 7.5 tonne gvw.
It is available complete for fitting to chassis with Telehoists FT2 and FR12 front end tipping rear; alternatively it can be supplied in kit form of cutand-fold pressings for welding and fitting by the customer.
The floor section has been strengthened using a new boxed side nave, while the sides and rail board have two deep V-section swages to give better longitudinal and lateral stiffness.
Rear corner posts extend 152mm (6in) above the sides, which secure using over-centre catches. Hinges are concealed and the tailboard pivots top and bottom.
Price of a 3.15cm (4.1cuyd) body suitable for a Ford Cargo 0813 on a 3.2m (1 Oft 6in) wheelbase is £2,263. Fitting a similar body on a Mercedes Benz 809 requires a full length sub frame and costs an additional £115.