60pc local Midi
16th March 1985
Page 18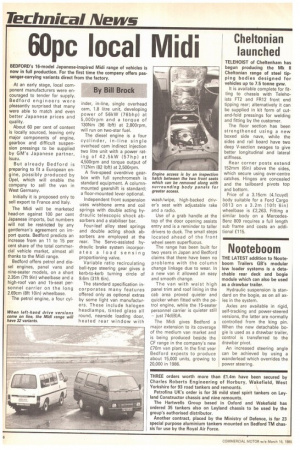 Page 18, 16th March 1985 —
60pc local Midi
Close
By Bill Brock
BEDFORD's 16-model Japanese-inspired Midi range of vehicles is now in full production. For the first time the company offers passenger-carrying variants direct from the factory.
At an early stage, local component manufacturers were encouraged to tender for supply. Bedford engineers were pleasantly surprised that many were able to match and even better Japanese prices and quality.
About 60 per cent of content is locally sourced, leaving only major components of engine, gearbox and difficult suspension pressings to be supplied by GM's Japanese partner, Isuzu.
But already Bedford is preparing to fit a European engine, possibly produced by Opel, which will enable the company to sell the van in West Germany.
Initially it is proposed only to sell export to France and Italy.
The Midi will be marketed head-on against 100 per cent Japanese imports, but numbers will not be restricted by any gentleman's agreement on import quota. Bedford predicts an increase from an 11 to 15 per cent share of the total commercial vehicle market, almost all thanks to the Midi range.
Bedford offers petrol and diesel engines, panel vans and nine-seater models, on a short 2.35m (7ft 9in) wheelbase and a high-roof van and 1b-seat personnel carrier on the long 2.69cm (8ft 10in) wheelbase.
The petrol engine, a four cyl inder, in-line, single overhead cam, 1.8 litre unit, developing power of 56kW (76bhp) at 5,000rpm and a torque of 130Nm (96 Ibft) at 2,800rpm, will run on two-star fuel.
The diesel engine is a four cyclinder, in-line single overhead cam indirect injection two litre unit with a power rating of 42.5kW (57hp) at 4,500rpm and torque output of 112Nm (82 lbft) at 2,500rpm.
A five-speed overdrive gearbox with full synchromesh is standard equipment. A columnmounted gearshift is standard; a floor-mounted lever optional.
Independent front suspension uses wishbone arms and coil springs with double acting hydraulic telescopic shock absorbers and a stabiliser bar.
Four-leaf alloy steel springs and double acting shock ab sorbers are employed at the rear. The Servo-assisted hydraulic brake system incorporates a load sensing proportioning valve.
Variable ratio recirculating ball-type steering gear gives a kerb-to-kerb turning circle of 9.6m (31ft 6in).
The standard specification incorporates many features offered only as optional extras by some light van manufacturers. These include halogen headlamps, tinted glass all round, nearside loading door, heated rear window with wash/wipe, high-backed driver's seat with adjustable rake and a radio.
Use of a grab handle at the top of the door opening assists entry and is a reminder to taller drivers to duck. The small steps located ahead of the front wheel seem superfluous.
The range has been built for two years in Japan and Bedford claims that there have been no problems with the column change linkage due to wear. In a new van it allowed an easy and smooth change.
The van with waist high panel trim and roof lining in the cab area proved quieter and quicker when fitted with the petrol engine, while the 15-seater personnel carrier is quieter still just 74d(B)A.
The Midi gives Bedford a major extension to its coverage of the medium van market and is being produced beside the CF range in the company's new £70m van plant. In the first year Bedford expects to produce about 15,000 units, growing to 20,000 in 1986.