NFC sackings fair
16th March 1985
Page 17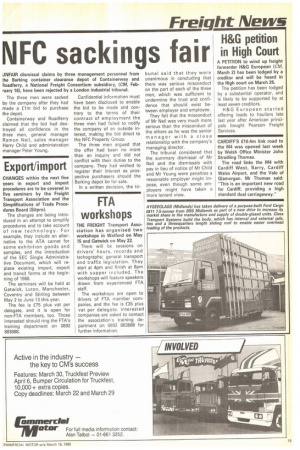 Page 17, 16th March 1985 —
NFC sackings fair
Close
JNFAIR dismissal claims by three management personnel from the Barking container clearance depot of Containerway and Roadferry, a National Freight Consortium subsidiary, (CM, February 16), have been rejected by a London industrial tribunal.
The three men were sacked by the company after they had made a £1rn bid to purchase the depot.
Containerway and Roadferry claimed that the bid had destroyed all confidence in the three men, general manager Ramon Neil, sales manager Harry Child and administration manager Peter Young. Confidential information must have been disclosed to enable the bid to be made and contrary to the terms of their contract of employment the three men had failed to notify the company of an outside interest, making the bid direct to the NFC Property Group.
The three men argued that the offer had been no more than an inquiry and did not conflict with their duties to the company. They had wished to register their interest as prospective purchasers should the Barking depot be for sale.
In a written decision, the tri bunal said that they were unanimous in concluding that there was serious misconduct on the part of each of the three men, which was sufficient to undermine the trust and confidence that should exist between employer and employee.
They felt that the misconduct of Mr Neil was very much more serious than the misconduct of the others as he was the senior manager with a close relationship with the company's managing director.
The tribunal considered that the summary dismissal of Mr Neil and the dismissals with pay in lieu of notice of Mr Child and Mr Young were penalties a reasonable employer might impose, even though some employers might have taken a more lenient view.