Valuable' operator eprieved by court
16th March 1979
Page 25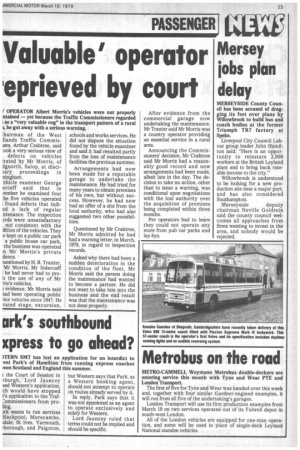 Page 25, 16th March 1979 —
Valuable' operator eprieved by court
Close
7 OPERATOR Albert Morris's vehicles were not properly ntained — yet because the Traffic Commissioners regarded as a "very valuable cog" in the transport pattern of a rural 1, he got away with a serious warning.
'hairman of the West hands Traffic Commisiers, Arthur Crabtree, said ;ook a very serious view of defects on vehicles rated by Mr Morris, of Jgnorth, Salop, at disciiary proceedings in ningham.
.ehicle examiner George erceff said that in 'ember he examined four he five vehicles operated , found defects that indied a lack of regular ntenance. The inspection Drds were unsatisfactory not consistent with the dition of the vehicles. They e kept on a public car park a public house car park, the business was operated Ti Mr Morris's private dence.
uestioned by H. R. Tranter, Mr Morris, Mr Siderceff 1 he had never had to proit the use of any of Mr Tis's vehicles.
evidence, Mr Morris said lad been operating public rice vehicles since 1947. He rated stage, excursion, schools and works services. He did not dispute the situation found by the vehicle examiner and said it had resulted partly from the loss of maintenance facilities the previous summer.
Arrangements had now been made for a reputable garage to undertake the maintenance. He had tried for many years to obtain premises of his own, but without success. However, he had now had an offer of a site from the local authority, who had also suggested two other possibilities.
Questioned by Mr Crabtree, Mr Morris admitted he had had a warning letter, in March, 1978, in regard to inspection records.
Asked why there had been a sudden deterioration in the condition of the fleet, Mr Morris said the person doing the maintenance had wanted to become a partner. He did not want to take him into the business and the end result was that the maintenance was not done properly. After evidence from the commercial garage now undertaking the maintenance, Mr Tranter said Mr Morris was a country operator providing an essential service in a rural area.
Announcing the Commissioners' decision, Mr Crabtree said Mr Morris had a reasonably good record and new arrangements had been made, albeit late in the day. The decision to take no action, other than to issue a warning, was conditional upon negotiations with the loal authority over the acquisition of premises being completed within three months.
Psv operators had to learn they could not operate any more from pub car parks and lay-bys.