Encouraging Results from
16th July 1937
Page 57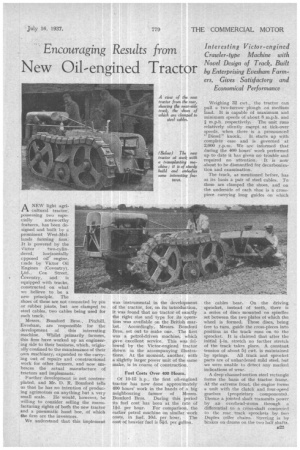 Page 57, 16th July 1937 —
Encouraging Results from
Close
New Oilengined Tractor
Interesting Victor-engined Crawler-type Machine with Novel Design of Track, Built by Enterprising Evesham Farmers, Gives Satisfactory and Economical Performance
A NEW light a.gri.. It cultural tractor. possessing two espe
cially noteworthy features, has been designed and built by a prominent West-Midlands farming firm.. It is powered by the Victor two-cylin dered, horizontally
opposed oil' engine, made by Victor Oil Engines (Coventry), 'Ad., Cox Street, Coventry, and is equipped with tracks, constructed on what we believe to be a
new principle. The • shoes of these are not connected by pin or rubber joints, hut are clamped to • steel cables, two cables being used for each track.
Messrs. Bomford Bros., Pitchill, Evesham, are responsible for the development of this interesting machine. Whilst primarily farmers, this firm have worked up an engineering side to their business, which, originally confined to the maintenance of their own machinery, expanded to the carrying out of repairs and constructional work for other farmers, and now embraces the actual manufacture of tractors and implements.
Further development is not contemplated, and Mr. D. R. Bomford tells us that he has no intention of producing agrimotors on anything but a very small scale. He would, however, be willing to consider selling the manufacturing rights of both the new tractor and a pneumatic hand hoe, of which the firm are the inventors.
We understand that this implement was instrumental in the development of the tractor, for, on its introduction, it was found that no tractor of exactly the right size and type for its operation was available on the British market. Accordingly, Messrs. Bomford Bros. set out to make one. The first was a petrol-driven machine, which gave excellent service. This was followed by the Victor-engined tractor shown in the accompanying illustrations. At the moment, another, with a slightly larger power unit of the same make, is in course of construction.
Fuel Costs Over 400 Hours.
Of 10-15 hp., the first oil-engined tractor has now done approximately 400 hours' work in the hands of a big neighbouring farmer of Messrs. Bomford Bros. During this period its fuel cost has been at the rate of 12d. per hour. For comparison, the earlier petrol machine on similar work costs, in fuel, 10d. per hour. The cost of heavier fuel is 51d. per gallon. Weighing 32 cwt., the tractor can pull a two-furrow plough on medium land. It is capable of maximum and minimum speeds of about 8 m.p.h. and 2 m.p.h. respectively. The unit runs relatively silently except at tick-over speeds, when there is a pronounced " Diesel" knock, It starts up with complete ease and is governed at 2,000 r.p.m. We are informed that during the 400 hours' work performed up to date it has given no trouble and required no attention. It is now about to be dismantled for decarbonization and examination.
The track, as mentioned before, has as its basis a pair of steel cables. To these are clamped the shoes, and on the underside of each shoe is a crosspiece. carrying long guides on which the cables bear. On the driving sprocket, instead of teeth, there is a series of discs mounted on spindles set between the two plates of which the wheel is formed. These discs, being free to turn, guide the cross-pieces into position as the track runs on to the sprocket. It is claimed that after the initial I-in, stretch no further stretch of the track takes place. A constant tension of about 54 cwt. is maintained by springs. All track and sprocket parts are of unhardened mild steel, hut we were unable to detect any marked indications of wear.
A deep channel-section steel rectangle forms the basis of the tractor frame. At the extreme front, the engine forms a unit with the clutch and four-speed gearbox (proprietary components). Thence a jointed shaft transmits power by an overhead-worm through a differential to a cross-shaft connected to the rear, track sprockets by two Duplex roller chains. Steering is by brakes on drums on the two half shafts.