Solo Motorcycle " V an" for _Light Transport D ELIVERY of
16th July 1937
Page 56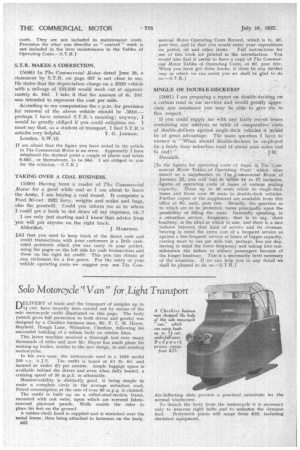 Page 56, 16th July 1937 —
Solo Motorcycle " V an" for _Light Transport D ELIVERY of
Close
loads and the transport of samples up to Lill cwt. have recently been carried out by means of the solo motorcycle outfit illustrated on this page. The body (which gives full protection to both driver and goods) was designed by a Cheshire business man, Mr. F. C. M. IIayes, Mayfield, Hough Lane, Wilmslow, Cheshire, following his successful building of a saloon body on similar lines.
This latter machine received a thorough test over many thousands of miles and now Mr. Hayes has made plans for making up bodies, similar to the new design, to suit existing motorcycles.
In his ownkcase, the motorcycle used is a 1929 model 250 c.c. A.J.S. The outfit is taxed at £1 2s. 6d. and insured at under £2 per annum. Ample luggage space is available behind the driver and even when fully loaded, a cruising speed of 35 m.p.h. is attainable.
Manceuvrability is distinctly good, it being simple to make a complete circle in the average suburban road. Petrol consumption at the rate of over 80 m.p.g. is claimed. The outfit is built up on a rolled-steel-section frame, mounted with oak webs, upon which are screwed fabriccovered plywood panels. Wells enable the rider to place his feet on the ground.
A rubber-cloth hood is supplied and is stretched over the metal frame, then being attached to fasteners on the body. B22 Air-deflecting slats provide a practical substitute for the normal windscreen.
To detach the body from the motorcycle it is necessary only to unscrew eight bolts and to unfasten the dynamo lead. Bodywork prices will range from £25, including electrical equipment.