OPINIONS
16th July 1937
Page 55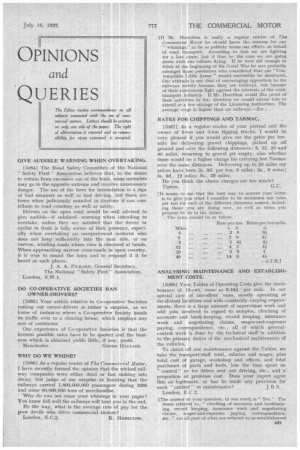 Page 56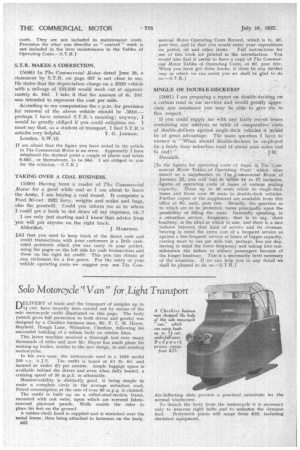 Page 55, 16th July 1937 —
OPINIONS
Close
and
QUERIES
The Editor invites correspondence on all subjects connected with the use of commercial tnotors. Letters should be written on only one side of the paper. The right of abbreviation is reserved and no responsibility for views expressed is accepted.
GIVE AUDIBLE WARNING WHEN OVERTAKING.
[5084] The Road Safety Committee of the National "Safety First" Association believes that, in the desire to refrain from excessive use of the horn, some motorists may go to the opposite extreme and involve unnecessary danger. The use of the horn for intimidation is a sign of bad manners as well as bad driving, but there are times when judiciously sounded in daytime it can contribute to road courtesy as well as safety.
Drivers on the open road would be well advised to give audible—if subdued—warning when intending to overtake, unless they are satisfied that the driver or cyclist in front is fully aware of their presence, especially when overtaking an inexperienced motorist who does not keep sufficiently into the near side, or on narrow, winding roads where view is obscured at bends. When approaching narrow cross-roads in open country, it is wise to sound the horn and to respond if it be heard at such places.
J. A. A. PICKARD, General Secretary, The National "Safety First" Association. London, S.W.1.
DO CO-OPERATIVE SOCIETIES BAN OWNER-DRIVERS?
[5085] Your article relative to Co-operative Societies cutting out owner-drivers is rather a surprise, as we know of instances where a Co-operative Society hands its traffic over to a clearing house, which employs any sort of contractor.
Our experience of Co-operative Societies is that the keenest possible rates have to be quoted and the business which is obtained yields little, if any, profit.
Manchester. GOODS HAULIER.
WHY DO WE WHINE?
15086] As a regular reader of Tke Commercial Motor,
I have recently formed the opinion that the wicked railway companies were either dead or fast sinking into decay, but judge of my surprise at learning that the railways carried 1,800,000,000 passengers during 1936 and some 60,000,000 tons of merchandise.
Why do you not cease your winnings in your paper? You know full well the railways will beat you in. the end.
By the way, what is the average rate of pay for the poor devils who drive commercial Motors?
London, R.C.2. K. HAMILTON.
[If Mr. Hamilton is really a regular. reader of The. Commercial Motor he should know the reasons for out
"
winnings," as he so politely terms our efforts on behalf of road transport. According to him we are fighting for a lost cause, but if that be the case we are going down with our colours flying. If he were old enough to think at the beginning of the Great War he was probably amongst those pessimists who considered that our "Contemptible Little Army '• would inevitably be destroyed. Our attitude is not that of encouraging opposition to the railways merely because they are railways, but because of their continuous fight against the interests of the roadtransport industry. If Mr. Hamilton would like proof of their activities in this direction we would advise him to attend at a few sittings of the Licensing Authorities. The average wage is higher than on railways.—En.]
RATES FOR CHIP PINGS AND TARMAC.
[5087] As a regular reader of your journal and the owner of 3-ton and 5-ton tipping trucks, I would be very pleased if you would give me the price per tonmile for delivering gravel chippings, picked up off ground and over the following distances ; 8, 12, 20 and 40 miles, returning to gravel pit empty, also whether there would be a higher charge for carrying hot Tarmac over the same distances. Delivering up to 20 miles my prices have been 2s. 9d. per ton, 6 miles ; 3s., 9 miles; 3s. 6d., 12 miles; 5s., 20 miles.
Do you think the above charges are too much?
Tipton. G.C.
[It seems to me that the best way to answer your letter is to give you what I consider to be minimum fair rates per ton for each of the different distances named, including those you are doing now, as well as those you propose to do in the future.
The rates should be as follow.
ANALYSING MAINTENANCE AND ESTABLISHMENT COSTS.
[5088] Your Tables of Operating Costs give the maintenance of 15-cwt, vans as 0.44d. _ per mile. In our special case of travellers vans, mostly operating at far-distant locations and with constantly.varying requirements, there is a large amount of supervision work and odd jobs involved in regard to samples, checking of accounts and hook-keeping, record keeping, insurance work and negotiating claims, wages-and-expenses paying, correspondence, etc., all of which generalcontrol work is done by the technical staff in addition to the primary duties of the mechanical maihtenanCe of the vehicles.
To check off our maintenance against the Tables, we take the transport-staff total, salaries and wages, plus total cost of garage, workshop and offices, and total purchases of parts and tools, less the time spent on "control" or for fitters sent out driving, etc., and a proportion of premises cost. Does your 'expert agree this as legitimate, or has he made any provision for such " control " in maintenance? J.R. S London, E.C.2.
[The answer to your question, in one word, is "Yes.' The items referred to, " checking of accounts and bookkeeping, record keeping, insurance work and negotiating claims, wages-and-expenses paying, correspondence, etc.," are all part of what are referred to as establishment
costs. They are not included in maintenance costs. Provision for what you describe as " control" work is not included in the item maintenance in the Tables of Operating Costs.--S.T.R.1 S.T.R. MAKES A CORRECTION.
150891 In The Commercial Motor dated June 18, a statement by S.T.R. on page 637 is not clear to me. He states that the depreciation charge on a £320 vehicle with a mileage of 130,000 would work out at approximately 4s. 10d. I take it that the amount of 4s. 10d. was intended to represent the cost per •mile.
According to my computation the c.p.m. for provision for renewal of the above vehicle should be .591d.— perhaps I have misread S.T.R.'s meaning; anyway, I would be greatly obliged if you could enlighten me. 1 must say that, as a student of transport, I find S.T.R.'s
articles very helpful. T. G. JARMAN. London, .S.W.13.
II am afraid that the figure you have noted in the article in The Commercial Motor is an error. Apparently I have misplaced the decimal point a couple of rilace.s and taken 0.58d., or thereabouts, to be 58d. I am obliged to you for the criticism.--S.T.R.J TAKING OVER A COAL BUSINESS.
00901 Having been a reader of The Commercial Motor for a good while and as I am about to leave the Army, I am buying a coal round. It comprises a Ford 30-cwt. 1932 lorry, weights and scales and bags, also the goodwill. Could you inform me as to where I could get a book to dot down all my expenses, etc.?
I am only just starting and I know that advice frOm you will put anyone on the right track.
Aldershot. J. HAMPSON.
rAll that you need to keep track of the direct cash and credit transactions with your customers is a little cash. ruled notebook which you can carry in your pocket, using the pages on the left side for cash transactions and those on the right for credit. This you can obtain at ,any stationers for a few pence. For the entry of your vehicle operating costs we suggest you use The Corn mercial Motor Operating Costs Record, which is Is. 3d. post free, and in that you would enter your expenditure on petrol, oil and other items. Full instructions for use of this book are printed in the introduction. You would also find it useful to have a copy of The Commercial Motor Tables of Operating Costs,, at 6d, post free. When you have got these books, if there be any further way in which we can assist you we shall be glad to do so.—S.T.R.
SINGLE OR DOUBLE-DECKERS?
• [5091] I am preparing a report on double-decking on a certain road in our serviees and would greatly appreciate any assistance you may be able to give roe in this respect.
• If you could supply me with any fairly recent issues containing any analysis, or table of comparative costs of double-clearers against single-deck VehicleS it would be of great advantage. The main question I have to answer is "When should double-deckers be employed On a fairly busy suburban road of about nine miles end to end?"
Dundalk. .. _
lin the figures for operating costs of buses in The Com
_
ntercial IttOtor Tahles"of Operating Costs Which Were issued as .a .supplement:-to The Comnierciat Atinni of January 22, you will find in tables 14 to 17 inclasive, figures :of .operating costs of buses of various ,seating capacity. Those up to 40 seats relate to single-deck buses and those over 40 seats to double-deck vehicles. Further copies of the supplement are available from this office at 6d each, post free. Broadly, the question as to which are to be preferred, turns principally upon the possibility of filling the Seats. Generally speaking, in a .suburban . service, frequency, that is to say, short headway,. is the ideal at which to aim, and there is a nice balance between that kind of service and its revenue, bearing in mind the extra cost of a frequent service as against a less-frequent service of buses of bigger capacity, costing more to run per mile but, perhaps, less, per day, having in mind the lower frequency and taking into consideration the failure to attract passengers because of the longer headway. This is a necessarily brief summary of the situation. If we can help you in any detail we shall be pleased to do so.--S.T.R.]