New Vans in Austin 1938 Programme
16th July 1937
Page 54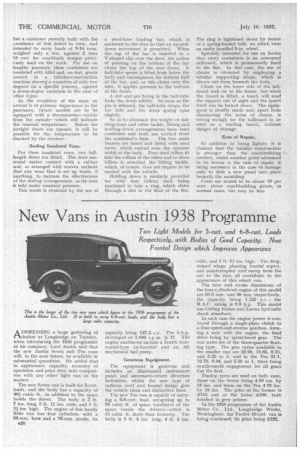 Page 54, 16th July 1937 —
New Vans in Austin 1938 Programme
Close
Two Light Models for 5-cwt. and 6-8-cwt. Loads Respectively, with Bodies of Good Capacity. New Frontal Design which Improves Appearance
ADDRESSING a large gathering of dealers at Longbridge on Tuesday, when introducing the 1938 programme of his company, Lord Austin said that the new Austin Seven. and Ten vans will, in the near future, be available its substantial quantities. He added that in appearance, capacity, economy of operation and price they bear comparison with any -other light van on the market.
The new Seven van is built for 5-cwt. loads, and the body has a capacity of 461 cubic ft, in addition to the space beside the driver. The body is 3 ft. 7 ins. long, 3 ft. 11 ins, wide, and 8 ft. 31 ins. high. The engine of this handy little van has four cylinders, with a 56-mm. bore and a 76-mm, stroke, its B20
capacity being 747.5 c.c. The h.h.p. developed at 3,800 r.p.m. is 17. The engine auxiliaries include a Zenith horizontal-type carburetteland an AC mechanical fuel pump.
Generous Equipment.
The equipment is generous and includes an illuminated instrument panel and automatic-return direction indicators, whilst the new type of radiator cowl and frontal design give the vehicle clean and distinctive lines.
The new Ten van is capable of carrying a 6-8-cwt. load, occupying up to 76 cubic ft. of space (eiclusive of the space beside the driver)—which is 13 cubic ft. more than formerly. The body is 5 ft. .5 ins. long, 4 ft. 3 ins.
wide, and 3 ft. 71 ins. high. The deep, domed wings, pleasing frontal aspect, and uninterrupted roof sweep from the cab to the rear, all contribute to the appearance of this smart van.
The bore and stroke dimensions of the four-cylindered engine of this model are 68.5 ram. and 89 mm.: respectively, the capacity being 1,125 c.c. ; the R.A.C. rating is 9.9 h.p, This model has Girling brakes and Lstva,x hydraulic shock absorbers.
In each case the engine power is conveyed through a single-plate. clutch to a four-speed-and-reverse gearbox, forming a unit with the engine, the final drive being by spiral-bevel gear. The rear axles are of the three-quarter floating type. The gear ratios available in the smaller van are 22.94, 13.85, 8.73, and 5.25 to 1, and in the Ten 21.1, 12.78, 8.04, and 5.25 to 1, there being synchromesh engagement for all gears but the first.
Dunlop tyres are used on both vans, those on the Seven being 4.09 ins. by 1_8 ins, and those on the Ten 4.75 ins. by 18 ins. The price of the former is £115 and of the latter £169, both finished in grey primer.
In the 1038 programme of the Austin Motor Co., Ltd., Longbridge Works, Birmingham, the Twelve 10-cwt. van is being continued, its price.beinte11.92.