A.E.C.'s New £30,000 Service Depot
16th July 1937
Page 52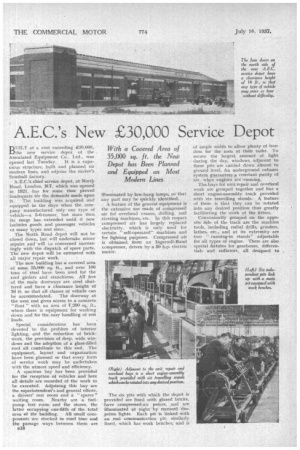 Page 53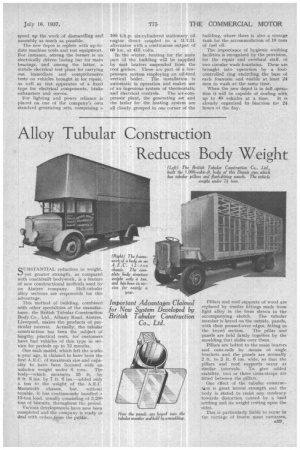 Page 52, 16th July 1937 —
A.E.C.'s New £30,000 Service Depot
Close
With a Covered Area of 35,000 sq. ft. the New Depot has Been Planned and Equipped on Most
Modern Lines
BIJILT at a cost exceeding £.30,000, the new service depot of the Associated Equipment Co., Ltd., was opened last Tuesday. It is a capacious stricture, built and planned on modern lines, and adjoins the maker's Southall factory.
A.E.C.'s chief service depot, at North Road, London, N.7, which was opened
in 1921, has for some time proved inadequate Mr the demands made upon it. The building was acquired and equipped in the days when the com pany manufactured only one type of vehicle—a 5-6-tonner, but since then its range has extended until it now includes goods and passenger vehicles of many types and sizes.
The North Road depot will not be closed down, but will undertake minor repairs and wifl be concerned increasingly with the dispatch of spare parts. The new depot will be entrusted with all major repair work.
The new building has a covered area of some 35,000 sq. ft., and over 100 tons of steel have been used for the roof girders and stanchions. All five of the main doorways are steel shut tered and have a clearance height of 16 ft. so that all classes of vehicle can be accommodated. The doorway at the west end gives access to a concrete "float" with an area of 7,200 sq. ft., where there is equipment for washing down and for the easy handling of test loads.
Special consideration has been devoted to the problem of interior lighting, and the reduction of brick work, the provision of deep, wide windows and the adoption of a glass-filled roof all contribute to this end. The equipment, layout and organization have been planned so that every form of service work may be undertaken with the utmost speed and efficiency.
A spacious bay has been provided for the reception of vehicles and here all details are recorded of the work to be executed. Adjoining this bay are the superintendent's and general offices, a drivers' rest room and a " spares" waiting room. Nearby are a fuelpump test room and the stores, the tatter occupying one-fifth of the total area of the lavilding. All small components are stocked in steel bins and the passage ways between them are a18
illuminated by low-hung lamps, so that any part may be quickly identified.
A feature of the general equipment is the extensive use made of compressed air fof overhead cranes, drilling, and riveting machines, etc. In thiS respect compressed air has largely replaced electricity, which is only used for certain " self-operated" machines and for lighting purposes. Compressed air is obtained from an Ingersoll-Rand compressor, driven by a 50 h.p. electric motor.
The six pits with which the depot is provided are lined with glazed bricks, have compressed-air points, and are illuminated at night by recessed "clic)* prism lights. Each pit is linked with an end communication pit, similarly lined, which has work benches, and is of ample width to allow plenty of freedom for the men at their tasks. To secure the largest amount of light during the day, windows adjacent to these pits are carried down almost to ground level. An underground exhaust system guarantees a constant purity of air, when engines are running.
The, baysfor unit repair and overhaul work are grouped together and line a short engine-assembly track provided with six travelling stands. , A feature of these is that they can be rotated into any desired position thus greatly facilitating the work of the fitters.
Conveniently grouped on the opposite side of the track are the machine tools, including radial drills, grinders, lathes, etc., and at its extremity are two " running-in stands" adjustable for all types of engine. There are also special fixtuies for gearboxes, differentials and radiators, all designed to speed up the work of dismantling and assembly as much as possible.
The new "depot is replete with up-todate machine tools and test equipment. For instance, among the former is an electrically driven boring bar for main bearings, and among the latter, a mobile electrical test plant for carrying out immediate and comprehensive tests on vehicles brought in for repair, as well as test apparatus of a fixed type for electrical .components, bialce exhausters and servos.
For lighting and power reliance is placed on one of the company's own standard generating sets, comprising a 100 b.h.p. six-cylindered stationary oil engine direct coupled to a B.T.II: alternator with a continuous output of 60 kw. at 415 volts.
In the winter, heating for the main part of the building will be supplied by unit heaters suspended from the roof girders. These are part of a lowpressure system employing an oil-fired vertical boiler. The installation is automatic in operation and makes use of an ingenious system of thermostatic
and electrical controls. The air-compressor plant, the generating sot and -the boiler for the heating system are all closely grouped in one corner of the
building, where there is also a storage tank for the accommodation of 10. tons of fuel oil.
The importance of hygienic washing facilities is recognized by the provision, for the repair and overhaul Staff, of two circular wash fountains. These are brought into operation by a footcontrolled ring encircling the base of each fountain and enable at least 24 men to wash at the same time.
When the new depot is in full operation it will be capable of dealing with up to 40 vehicles at a time. It is already organized to function for 24 hours of the day.