Salesmen and Alleged A-Licence Illegalities
16th July 1937
Page 48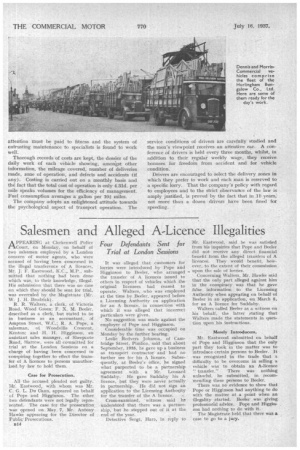 Page 48, 16th July 1937 —
Salesmen and Alleged A-Licence Illegalities
Close
Four Defendants Sent for Trial at London Sessions
APPEARING at Clerkenwell Police Court, on Monday, on behalf of two salesmen employed by a .London concern of motor agents, who were accused of having . been concerned in the illegal tranference of A licences, Mr. J. F. Eastwood, K.C., M.P., submitted that nothing had been done which was, to their knowledge, illegal. His submission that there was no case on which they should be sent for trial, was overruled by the Magistrate (Mr. W. J. H. Brodrick).
R. R. Walters, a clerk, of Victoria Road, Wood Green; F. X. M. Beeler, described as a clerk, but stated to be in business as an accountant, of Arnpton Street, W.C.; R. A. Pope, a salesman, of, Woodville Crescent, Kenton; and H. H. Iligginson, an assistant sales manager, of Sheepcote Road, Harrow, were all committed for trial at the London Sessions on a charge. of having been concerned in conspiring together to effect the transfer of A licences to persons unauthorized by law to hold them.
Case for Prosecution.
All the accused pleaded not guilty. Lir: Eastwood, with whom was Mr. C. G. L. Du Cann, appeared on behalf of Pope and Higginson. The other two defendants were not legally represented.. The case for the prosecutinn was opened on May 7, Mr. Antony Hawke appearing for the Director of Public Prosecutions. It was alleged that customers for lorries were. introduced by Pope and Higginson to Beeler, who arranged the transfer of A licences issued to others in respect of vehicles which the original licensees had ceased to operate. Walters, who was employed at the time by Beeler, appeared before a Licensing Authority on application fOr an A licence, in connection with which it was alleged that incorrect particulars were given.
No suggestion was made against the employer of Pope and Higginson.
Considerable time was occupied on Monday by the further hearing.
Leslie Redvers Johnson, of Cambridge Street, Pimlico, said that about September, 1935, he gave up a business as transport contractor and had no further use for his A licence. Subsequently, at Beeler's office, he signed what purported to be a partnership agreement with a Mr. Leonard Suddaby. He gave Suddaby his A licence, but they were never actually in partnership. He did not sign an application to the Licensing Authogity for the transfer of the A licence.
Cross-examined, 'witness said he understood that •there was a partnership, hut he stepped out of it at the end of the year.
Detective Sergt. Hara, in reply to
Mr. Eastwood, said he was satisfied from his inquiries that Pope and Beeler did not receive any, direct financial • benefit from the alleged transfers of A licences. They would benefit, hoivever, to the extent of their commission upon the sale of lorries.
Concerning Walters, Mr. Hawke said • that the only part alleged against him in the conspiracy was that he gave .false information to the Licensing Authority when appearing on behalf of
• Beeler in an application, on March 5, for an A licence for Suddaby.
Walters called Beeler as a witness on his behalf, the latter stating that Walters made the statements in ques• tion upon his instructions.
Merely Introducers.
Mr. Eastwood submitted on behalf of Pope and Higginson that the only part they took in the matter was to introduce certain persons to Beeler. It was recognized in the trade that a difficulty to be overcome in selling a vehicle • was to obtain an A-licence " transfer.'! There was nothing unlawful, he submitted, in recommending these persons to Beeler.
There was no evidence to show that Pope or Higginson had anything to do with the matter at a point when an illegality started. Beeler was giving professional advice. Pope and Higgins-on had nothing to do with it. The Magistrate held that there wa.s a case to go to a jury.