What the Associations Are Doing
16th July 1937
Page 43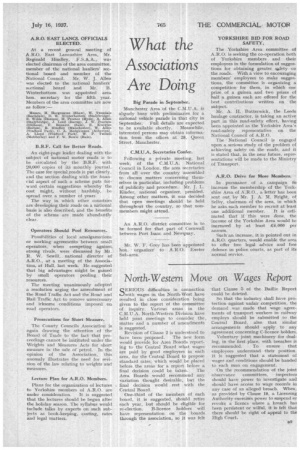 Page 43, 16th July 1937 —
What the Associations Are Doing
Close
Big Parade in September.
Manchester Area 'tif the C.M.U,A. is already busy with preliminaries for a national vehicle parade in that city in September. Full details are expected to be available shortly. Meanwhile, interested persons may obtain-information froth the offices at 28, Queen Street, Manchester.
C.M.TJ.A. Secretaries Confer.
Following a private meeting, last week, of the C.M.U.A. National Council in London, the area secretaries from all over the country assembled to discuss matters concerning themselves in particular, including problems of publicity and procedure. Mr. J. L. Kinder, national organizer, presided. Among other matters, it was decided that open meetings should be held throughout the country, so that nonmembers might attend.
An A.R.O. district committee is to be formed for that part of Cornwall between Port Isaac and Newquay,
Mr. W. F. Grey has been appointed hon. organizer to A.R.O. Exeter Sub-area. YORKSHIRE BID FOR ROAD SAFETY.
The Yorkshire Area committee of A.R.O. is seeking the co-operation both of Yorkshire members and their employees in the formulation of suggestions for obtaining greater safety on the roads. With a view to encouraging members' employees to make suggestions, the committee is organizing a competition for them, in which one prize of a guinea and two prizes of half a. guinea each are offered for the best contributions written on the subject. _ Mr. A. H. Butterwick, the Leeds haulage contractor, is taking an active part in this road-safety effort, having been appointed as the Yorkshire Area's road-safety representative on the National Council of A.R.O.
The ' National Council is engaged upon a serious study of the problem of achieving safety on the roads, and it is stated that, in the near future, representations will be made to the Ministry of Transport.
A.R.O. Drive for More Members.
Lu pursnance of a . campaign to increase the membership of the Yorkshire Area of A.R.O., a letter has been sent out by Mr. J. A. M. Bright, of Selby, chairman of the area, in which he asks each member to recruit at least one additional member. It is estimated that if this were done, the income of the Yorkshire Area would be increased by at least E4,000 per annum.
Such an increase, it is pointed out in A.R.O. quarters, would enable the area to offer free legal advice and free .defence in. police courts, as part of its normal service,