North-Western Move on Wages Report S ERIOUS difficulties in connection with
16th July 1937
Page 43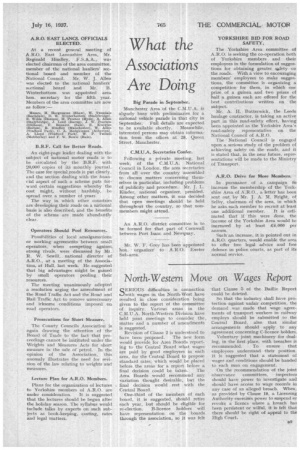 Page 43, 16th July 1937 —
North-Western Move on Wages Report S ERIOUS difficulties in connection with
Close
wages in the North-West have resulted in close consideration being given to the report of the committee of inquiry. Various areas ill the C.m.u.A. North-Western Division have held, joint meetings to consider the, matter and a number of amendments. is suggested.
Revision of Clause 2 is understood to have been proposed. The new form would provide for Area Boards reporting to the Central Board -what wages are paid by good employers in each area, for the Central Board to propose standard rates, which would be placed before, the areas for a report before a final decision could be taken. The Area Boards would recommend any variation thought desirable, but the final decision would rest with the Central Board.
One-third of the members of each board, it is suggested, should retire each year, but should be eligible for re-election. B-licence holders will have representation on the boards through the association, so it was felt that Clause fi of the Baillie Report could be deleted.
So that the industry shall have protection against unfair competition, the demand was made •that wage agreements of transport workers in railway employs should be submitted to the Central Board, also that siinilar arrangements should apply to any agreement concerning C-licence.holders.
Voluntary joint machinery for dealing, in thc first place, with breaches is recommended. To ensure that employees understand their potion. it is suggested that a statement of wages and conditions should be handed to each man on engagement.
On the recommendation of the joint observance committees, inspectors should have power to investigate and should have access to wage records in any case of an alleged breach, When, as provided by Clause 18, a Licensing Authority exercises power to suspend or revoke a licence where a, breach his been persistent or wilful, it is felt that there should be right of appeal to the High Court.