A break in a speedometer cable is clearly shown in ibis X-ray photograph taken by Commercial X-rays, Ltd.
16th July 1937
Page 42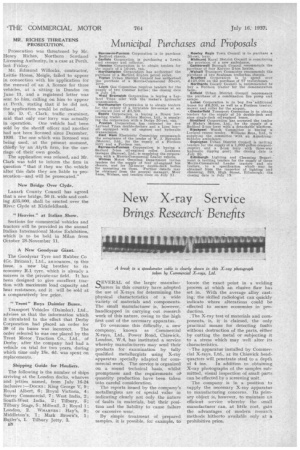 Page 43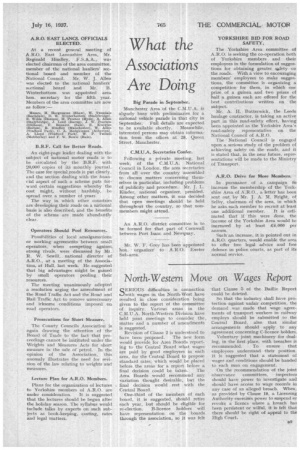 Page 42, 16th July 1937 —
A break in a speedometer cable is clearly shown in ibis X-ray photograph taken by Commercial X-rays, Ltd.
Close
SEVERAL of the larger manufacturers in this country have adopted the use of X-rays for determining the physical characteristic's of a wide variety of materials and components. The small manufacturer is, however, handicapped in carrying out research work of this nature, owing to the high first cost of the necessary apparatus.
To overcome this difficulty, a new company, known as Commercial X-rays, Ltd., Power Road, Chiswick, London, W.4, has instituted a service whereby manufacturers may send their products for examination by fully qualified metallurgists using X-ray apparatus specially adapted for commercial work. The service is organized on a sound technical basis, whilst promptness and the requirements ofr quantity production have been taken into careful consideration.
The reports issued by the company's metallurgists are of special value in indicating clearly not only the nature of faults in materials, but their position and the liability to cause failure Or excessive wear.
By simple treatment of prepared samples, it is possible, for example, to locate the exact point in a welding process at which an elusive flaw has set in. With the average alloy casting; the skilled radiologist can quickly indicate where alterations could be effected to secure economies in production.
The X-ray test of materials and components, is, it is claimed, the only practical means for detecting faults without destruction of the parts, either by cutting the metal or subjecting it to a stress which may well alter its characteristics.
r The apparatus installed by Commercial X-rays, Ltd., at its Chiswick headquarters will penetrate steel to a depth of 4 ins. In addition to obtaining. X-ray photographs of the samples submitted, visual inspection of small parts can be effected by a screening unit.
The company is in a position to supply the necessary X-ray apparatus to manufacturing concerns. Its primary object is, however, to maintain an efficient service whereby the small manufacturer can, at little cost, gain the advantages of modern research methods hitherto available only at a prohibitive price. A.R.O. EAST LANCS. OFFICIALS ELECTED.
At a recent general meeting of A.R.O. East Lancashire Area, Mr. Reginald Hindley, F.S.A.A., was elected chairman of the area committee, member of the national hauliers' sectional board and member of the National Council. Mr. W. J. Allen was elected to the national hauliers' sectional board and Mr. B. Winterbottom was appointed area hon. secretary for the fifth year. Members of the area committee are now as follow:—
Adeesrs. H. Hargreaves (Shawl, W. Tweedsle (Rochdale), B. W. Wmterbottona IStalybridge), E. Wilde (Denton) H. Proctor (Hyde) A. Allen
• (Stalyhridge), i,ord (Baeapj, 3.1711'. Pearson (Oldham), F. Bennett (Sale), E. Knowles (Bolton), 11. Bsndley (Manchester), W. Allen (Trafford Park), C. A. nodgkinson (Atherton), A. Lloyd (Trafford Park), W. P. Txribeli (Mobberley) and F. W. Bowie (Hale).
B.R.F. Call for Better Roads.
An eight-page leaflet dealing with the subject of national motor roads is to be circulated by the B.R.F. with 20,000 copies of its monthly journal. The case for special roads is put clearly, and the section dealing with the financial aspect of such a scheme puts forward certain suggestions whereby the cost might, without hardship, be spread over a number of years.
The way in which other countries are developing their roads on a national basis is also described, and the benefits of the scheme are made abundantly clear.
Operators Should Pool Resources.
Possibilities of local amalgamations or working agreements between small operators, when competing against strong rivals, were discussed by Mr.
. W. Sewill, national director of A.R.O., at a meeting of the Association, at Hull, last week He suggested that big advantages might be gained by small operators pooling their resources.
The meeting unanimously adopted a resolution urging the amendment of the Road Traffic Act and the Roadand Rail Traffic Act to remove unnecessary and irksome conditions imposed on road operators.
Prosecutions for Short Measure, The County Councils Association is again drawing the attention of the Board of Trade to the fact that proceedings cannot be instituted under the Weights and Measures Acts for short measure in the sale of petrol. In the opinion of the Association, this anomaly illustrates the need for revision of the law relating to weights and measures.
Lecture Plan for A.R.O. Members.
Plans for the organization of lectures to Yorkshire members of A.R.O. are under consideration. Tt is suggested that the lectures should be begun after the holiday season. The syllabus would include talks by experts on such subjects as hook-keeping, costing, rates and legal matters.