Personal Pars
16th July 1937
Page 41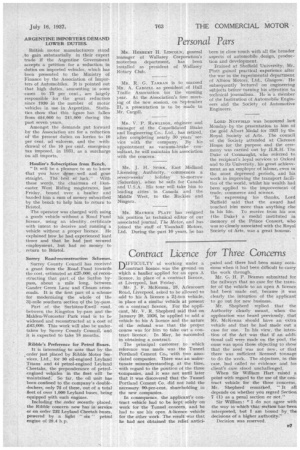 Page 41, 16th July 1937 —
Personal Pars
Close
MR. HERBERT H. LINCOLN, general manager of Wallasey Corporation's motorbus department, has been installed as president of Wallasey Rotary Club.
MR. R. G. TARRAN is to Succeed MR. A. CARGILL as president of Hull. Traffic Association for the ensuing • year. At the Association's. first meeting of the 'new session, on September 21, a presentation is to be made to Mr. Cargill.
•
MR. V. P. RAWLINGS, engineer and manager of the Consolidated' Brake and Engineering Co., Ltd., has retired, after completing nearly 30 years'. service with the company. By his appointment as vacuum-brake consultant, he will maintain his association with the concern. •
MR. J. H. STIRIC, East Midland LicenSing . Authority, commenees a sevemweeks' holiday to-morrow (Saturday), when he sails for Canada and U.S.A. His tour will take him to leading cities• in Canada and the Middle West, to the Rockies and Niagara. •
MR. MAURICE PLATT has resigned his position 'as technical editor of our associated journal, The Motor, and has joined the staff of Vauxhall Motors, Ltd. During the past 10 years, lie has
been in close touch with all the broader aspects of automobile design, production and development.
Trained at Sheffield University, Mr. Platt gained practical experience after the war in the experimental department of Albion MotOrs, Ltd., Glasgow. He subsequently lectured on engineering subjects before turning his attention to technical journalism. He is a member of the Institution of Automobile-Engineers and the Society of Automotive Engineers.
LORD NUFFIELD was honoured last Monday by the presentation to him of the gold Albert Medal for 1987 by the Royal Society of Arts. The council of the Society attended at Clarence House for the purpose and the ceremony was carried out by H.R.H. The Duke of Connaught, who referred to the recipient's loyal services to Oxford and to its University, his great achievement as an employer of labour, even in the most depressed periods, and his work in improving the transport facilities of the world, whilst his wealth had been applied to the improvement of trade, commerce and science.
'In expressing his thanks, Lord Nuffield said that the award had touched him more than anything else in his life. To receive from his son (the Duke) a medal instituted in memory of the Prince Consort, who was so closely associated with the Royal Society of Arts, was a great honour.