Contract Licence for Three Concerns D IFFICULTY of working under a
16th July 1937
Page 41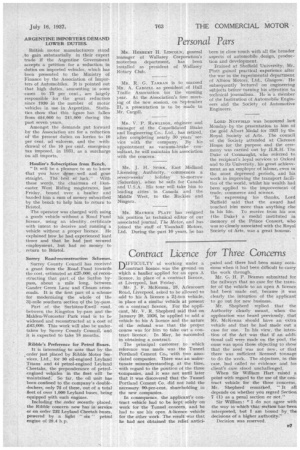 Page 42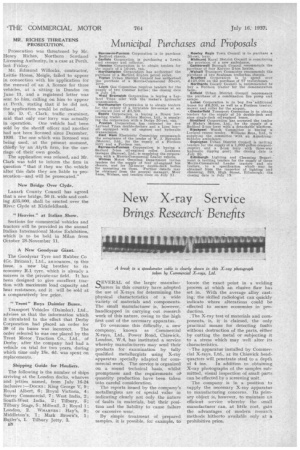 Page 41, 16th July 1937 —
Contract Licence for Three Concerns D IFFICULTY of working under a
Close
1--,contract licence was the ground on which a haulier applied for an open A licence, in place of a contract licence, at Liverpool, last Friday.
Mr. J. F. McKenna, 18, Arlescourt Road, Liverpool, asked to be allowed to add to his A licence a 21-ton vehicle, in place of a similar vehicle at present an a contract licence. For the applicant, Mr. V. R. Shepherd said that on January 20, 1936, he applied to add a vehicle to his A licence and the nature of the refusal was that the proper course was for him to take out a contract licence. In May, he succeeded in obtaining a contract.
The principal customer to which reference was made was the Tunnel Portland Cement Co., with two associated companies. There was an unfortunate misunderstanding, at the time, with regard to the position of the three tompanies. and it was not until later that it was discovered that the Tunnel Portland Cement Co. did not hold the necessary 90-per-cent, shareholding in the new companies.
In consequence, the applicant's contract vehicle had to be kept solely on work for the Tunnel concern, and he had to use his open A-licence vehicle for the other work. The result was that he had not obtained the relief antici .pated and there bad been many occasions when it had been difficult to carry the work through.
Mr. G. H. P. Bearnes submitted for the railways that no case for the transfer of the vehicle to an open A licence had been made out, because it was clearly the inteiation of the applicant' to go out for new buSiness.
Mr. Shepherd replied that the Authority clearly meant, when the application was heard previously, that Mr. McKenna should have an extra vehicle and that he had made out a case for one. In his view, the intention of the Act was that if an additional call were made on the pool, the onus was upon those objecting to show that the need was not new, or that there was sufficient licensed tonnage to do the work. The objectors, in this case, had called no evidence and his client's case stood unchallenged.
When Sir William Hart raised a point with regard to the use of the contract vehicle for the three concerns, Mr. Shepherd remarked, "It all depends on whether you regard Section 7 (1) as a penal section or not."
Sir William: " I do not agree with the way in which that section has been interpreted, hut I am bound by the decisions of a higher authority."
Decision was reserved..
Mk: RICHES THREATENS PROSECUTION.
ProSecution was threatened by Mr. Henry Riches, Northern Scotland Licensing Authority, in a case at Perth, lastFriday.
Mr. Edmund Willocks, contractor, Leitfie House, Meigle, failed to appear in connection with his application for the renewal of an A licence for three vehicles, at a sitting in Dundee on June 11, and a registered letter was sent to him, calling on him to appear at Perth, stating that if he did not, the application would be refused.
Mr. D. C. Clark, traffic examiner, said that only one lorry was actually in operation. One vehicle had beeri sold by the sheriff officer and another had not been licensed since December, 1936. The one which was licensed was being used, at the present moment, chiefly by an Alyth firm, for the carriage of their own goods.
The application was refused, and Mr. Clark was told to inform the firm in question "that if they use the vehicle after this date they are liable to prosecution—and will be prosecuted."
New Bridge Over Clyde.
Lanark County Council has agreed that a new bridge, 50 ft. wide and costing £35,000, shall be erected over the River Clyde at Kirkfieldbank.
" Heavies" at Italian Show.
Sections for commercial vehicles and tractors will be provided in the annual Italian International Motor Exhibition, which is to be held in Milan from October 28-November 11.
A New Goodyear Giant.
The Goodyear Tyre and Rubber Co (Gt. Britain), Ltd., announces, in this issue, a new big brother to its economy R.1 tyre. which is already a success in the private-car field. It has been designed to give excellent traction with maximum load capacity and heat resistance, and it will he sold at a comparatively low price.
" Trent" Buys Daimler Buses.
Transport Vehicles (Daimler), Ltd., advises us that the information which it circulated to the effect that Derby Corporation had placed an order for 30 of its buses was incorrect. The order referred -to was one placed by the Trent Motor Traction Co., Ltd., of Derby, after the company had bad a vehicle on trial for two years, during which time only 18.9. 4d. was spent on replacements.
Shipping Guide for Hauliers.
The following is the number of ships arriving at the London docks, wharves and jetties named, from July 16-24 inclusive :—DocKs : King George V, 9; Royal Albert, 6; Royal Victoria, 4; Surrey Commercial, 7; West India, 2; South-West India, 2; Tilbury, 5; Tilbury Stage, 5; Millwall, 3; Royal 1; London, 2. WHARVES: Hay's, 9; Middleton's, 1; Mark Brown's, 1; Butler's, 1. Tilbury Jetty, 3.
BS
Tags
People
:
Royal Victoria
,
Millwall
,
Royal Albert
,
George V
,
V. R. Shepherd
,
D. C. Clark
,
Henry Riches
,
William Hart
,
Tilbury Stage
,
Edmund Willocks
,
Mark Brown
,
J. F. McKenna