Motor Industry Pioneers Paid Holidays
16th July 1937
Page 40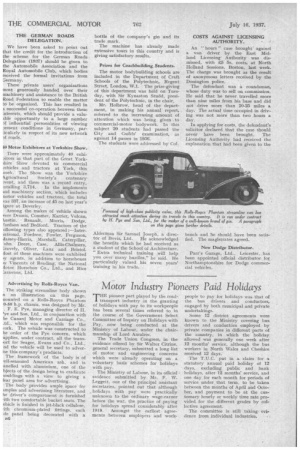 Page 41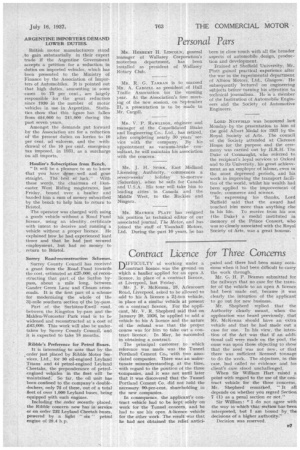 Page 40, 16th July 1937 —
Motor Industry Pioneers Paid Holidays
Close
T"Epioneer part played by the roadtransport industry in the granting of holidays with pay to its workpeople has been several times referred to in the course of the Government Select Committee of Inquiry on Holidays with Pay, now being conducted at the Ministry of Labour, under the chairmanship of Lord Amulree.
The Trade Union Congress, in the evidence offered by Sir Walter Citrine, general secretary, submitted a long list of motor and engineering concerns which were already operating on a voluntary basis schemes for holidays with pay.
The Ministry of Labour, in its official evidence submitted by Mr. F. W. Leggett, one of the principal assistant secretaries, pointed out that although holidays with pay were practically unknown to the ordinary wage-earner before the war, the practice of paying for holidays spread considerably after 1918. Amongst the earliest agreements between employers and work
people to pay for holidays was that of the bus drivers and conductors, engaged by both municipal and private undertakings.
Some 12 district agreements were known to the Ministry covering bus drivers and conductors employed by private companies in different parts of the country, in which the holiday allowed was generally one week after 12 months' service, although the bus workers in North Wales and Cheshire received 12 days.
The T.U.C. put in a claim for a statutory annual paid holiday of 12 days, excluding public and bank holidays, after 12 months' service, and one day, for each month for periods of service under that term, to be taken between the months of April and October, and payment to be at the customary hourly or weekly time rate provided for the different grades by collective agreement.
The committee is still taking evidence from individual industries. ARGENTINE IMPORTERS DEMAND LOWER DUTIES.
British motor manufacturers stand to ,gain substantially in their export trade if the Argentine Government accepts a petition for a reduction, in duties on imported vehicles, which has been presented to the Ministry of Finance by the Association of Importers of Automobiles. It is pointed out that high duties, amounting in some 'cases to 75 per cent., are largely responsible for the great reduction since 1930 in the number of motor vehicles in use in Argentina. Statistics show that this figure has fallen from 454,000 to 241,000 during the past Seven years.
Amongst the demands put forward by the Association are for a reduction of the present duties on lorries to 10 per cent, ad valorem, and the withdrawal of the 10 per cent, emergency tax imposed, in 1931, as a surcharge On all imports. •
Haulier's Subscription from Bench. "It will he a pleasure to us to know that you have done " well and gone straight. The bait of luck.With these words, the chairman of •Doncaster West Riding magistrates, last Friday, hound over a haulier and handed him a sum of money subscribed by the bench to help him to return to Bristol.
The operator was charged with using a goods vehicle without .a Road Fund licence, using an identity. certificate with intent to deceive and, running a vehicle without a proper licence. He explained how he had experienced hard times and that lie had just secured employment, but had no money to return to Bristol.
Surrey Road-reconstruction Schemes.
Surrey County Council has received a grant from the Road Fund towards the cost, estimated at £25,000, of reconstructing that part of the Sutton bypass, about a mile long, between Gander Green Lane and Cheam crossroads. It is the first part of a scheme for modernizing the whole of the 33.-mile southern section of the by-pass.
Part of the Surbitori-Ewell road, between the Kingston by-pass and the Malden-Worcester Park road is to be widened and reconstructed at a cost of £43,000. This work will also be undertaken by Surrey County Council, and it is expected to take 18 months.
Ribble's Preference for Petrol Buses.
It is interesting to note that by the order just placed by Ribble Motor Services, Ltd., for 30 oil-enginecl Leyland Titans and 44 petrol-engined Leyland Cheetahs, the preponderance of petrolengined vehicles in the fleet Will he maintained: So far, the oil unit has been confined to the company's doubledeckers, only 75 of these, out of a total fleet of over 1,000 Leyland buses, being equipped with such engines.
Including the order recently placed, the Ribble concern now has in service or on order 232 Leyland Cheetah buses, powered by a light •" six" petrol engine of 29.4 ti.p.