Business Break Causes Licence Tangle
16th July 1937
Page 39
Page 40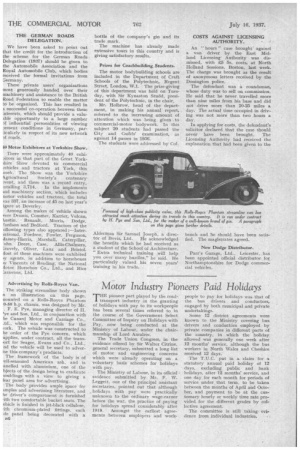 Page 39, 16th July 1937 —
Business Break Causes Licence Tangle
Close
AREMARKABLE situation arising out of a dissolution of partnership between three brothers was disclosed before the North-Western Deputy Licensing Authority, at Liverpool, last week.
Mr. L. Santangeli, of 21, Stanley Street, Liverpool, applied for an A licence for two vehicles (4i tons), and for permission to acquire an extra 2fton vehicle, on surrendering the A licence held by L. Sant and Co. for seven vehicles. His brothers, Mr. A. Santangeli, of 95, Roscommon Street, Liverpool, and Mr. J. Santangeli, of 67, Phoebe Ann Street, Liverpool, as partners in L. Sant and Co., each applied for A licences for two vehicles (4 tons) and for permission to acquire an extra 1k-ton vehicle each.
The hearing was opened on October 6-last, before Sir William Hart, and was adjourned in order that an effort might be made through the county court to arrive at an equitable allocation of the business of L.Sant and Co. between the three partners.
Evidence was given at the • earlier hearing that Mr. L. Santangeli was the commercial manager of the concern and that when the partnership was dis solved, he went to the customers 'L. Sant and Co. and obtained all thei: work for his vehicles. When the hear big was resumed last week, Sir %Niihau Hart said that he understood it hat not been possible to come to an agree ment on the question of apportionini the traffic.
Mr. A. E. Baucher, for Messrs. A and J. Santangeli, said that the count] court explained, in effect, that it cot* do nothing in the matter. Even if ai order were made for apportionment, i could not be enforced. To avoid corn plicating the issues too much, hi clients would withdraw :that part o their application relating to additions vehicles; •
Mr. Crichton, for Mr. L. Santangeli said he could not agree to give up thextra vehicle, -as, on the evidence h submitted, his client was fully entitle4 to it
For the railways, Mr. C. Th. Hodgsoi said that their objection was . to th applications in toto. At the earlie hearing the Authority had stated tha he could see no ground for granting th extra vehicles, or even that the appli cants should be allowed the othe vehicles. '
In his submission, it was fairly clea that Mr, L. Santangeli was the ma who carried on the business and th others were subservient to him, 'Then was no evidence from the othe brothers that they had any busines proper to an A licence, as it consiste almost entirely of work for clearin houses.
In reply, Mr. Baucher declared tha this was a most unfortunate case. Th brothers started out with a partnei ship having certain claimed-tonnag vehicles, for which there was sufficier business. In the dissolution, th vehicles and solid .assets were squall divided between the three partner but this situation, which they had ric foreseen, had arisen. He thought thkthe simplest way would be to anneal
two vehicles to each brother. . Decision was reserved THE GERMAN ROADS DELEGATION.
We have been asked to point out that the credit for the introduction of the scheme for the German Roads Delegation (1937) should be given to the Automobile Association and the Royal Automobile Club, which bodies received the formal invitations from Germany.
These private users' organizations most generously handed over their machinery and assistance to the British Road Federation to enable the matter to be organized. This has resulted in successful co-operation between these .nterests, which should provide a valuthle opportunity to a large number If influential personalities of viewing ?resent conditions in Germany, paricularly in respect of its new network )f roads, 10 Motor Exhibitors at Yorkshire Show.
There were approximately 40 exhi?itors in that part of the Great Yorkthire Show devoted to commercial zehicles and tractors at York, this seek.The Show was the Yorkshire
Agricultural Society's centenary went, and there was a record entry, :otalling 3,714. In the implements ind machinery section, which includes notor vehicles and tractors, the total vas 337, an increase of 45 on last year's igure at Beverley.
Among the makes of vehicle shown vere Dennis, Commer, Rather, Vulcan, austin, Renault, Morris, Dodge, l'ordson and.Bedford. Tractors of the ollowing types also appeared :—Interiational, Fordson, Fowler, Ferguson, elassey-Harris, ,Marshall, Caterpillar, 'ohn Deere, Case, Allis-Chalmers, ;ravely, Oliver, Lanz and Bristol. 4ost of these machines were exhibited )3( agents, in addition to horseboxes )3( Vincents of Reading, the National 4otor Horsebox Co., Ltd., and Rice ;a1avans, Ltd.
Advertising by Rolls-Royce Van.
The striking streamline body shown n an illustration on this page, nounted on a Rolls-Royce Phantom 0-50 hp. chassis, was designed by Mr. . F. E. Pye, managing director of H. 'ye and Son, Ltd., in conjunction with he Cunard Motor and Carriage Co., Ad., which was responsible for the vork. The vehicle was constructed to he order of the Pye concern, which iipplies, under contract, all the transoft for Seager, Evans and Co., I.td., nd the vehicle will he used to adverse this company's products.
The framework of the body is of ,ell-seasoried American ash, and is anelled with aluminium, one of the bjects of the design being to eradicate louldings with a view to giving a tear panel area for advertising.
The body provides ample *space for imples and advertising literature, and he driver's compartment is furnished
• ith two comfortable bucket seats. The ehicle is finished in jet-black cellulose, • ith chromium-plated fittings, each .de panel being decorated with a at; bottle of the company's gin and its trade mark.
The machine has already made extensive tours in this country and is giving satisfactory results.
Prizes for Coachbuilding,Students.
The motor bodybuilding schools are included in the Department of Craft Schools of the Polytechnic, Regent Street, London, W.1. The prize-giving of this department was held on Tuesday, with Sir Kynaston Studd, president of the Polytechnic, in the chair.
Mr. Holbrow, head of the department, in making his annual report, referred to the increasing amount of attention which was being given to commercial-motor bodywork. In this subject 20 students had passed the City and Guilds' examination, as against 14 passes in 1936.
The students were addressed by Cot Alderman Sir Samuel Joseph, a director of Bovis, Ltd. He acknowledged the benefits which he had received as a student of the School of Architecture. "Extra technical training will help you over many hurdles," he said. He particularly valued his seven years' training in his trade. COSTS AGAINST LICENSING AUTHORITY, • An "hours case brought against a van driver by the East Midland Licensing Authority was dismissed, with £5 5s. costs, at North Holland Sessions, Boston, last week. The charge was brought as the result of anonymous letters received by the Donington police.
The defendant was a roundsman, whose duty was to sell on commission. He said that he never travelled more than nine miles from his base and did not drive more than 20-25 miles a day. The actual time occupied in driving was not more than two hours a day.
In applying for costs, the defendant's solicitor declared that the case should never have been brought. The Licensing Authority had received the explanation that had been given to the bench and be should have been satisfied. The magistrates agreed.
New Dodge Distributor.
Parr's Garage, Ltd., Leicester, has been appointed official distributor for Northamptonshire for Dodge commercial vehicles.
Tags
Organisations
:
North-Western Deputy Licensing Authority
,
Department of Craft Schools of the Polytechnic
,
British Road Federation
,
East Midland Licensing Authority
,
Licensing Authority
,
Automobile Association
,
AGAINST LICENSING AUTHORITY
,
Royal Automobile Club
,
School of Architecture
,
Donington police
,
Yorkshire Agricultural Society
People
:
F. E. Pye
,
Cot Alderman Sir Samuel Joseph
,
Holbrow
,
Kynaston Studd
,
Crichton
,
William Hart
,
A. Santangeli
,
J. Santangeli
,
C. Th
,
L. Santangeli
,
A. E. Baucher