One Hears—
16th July 1937
Page 37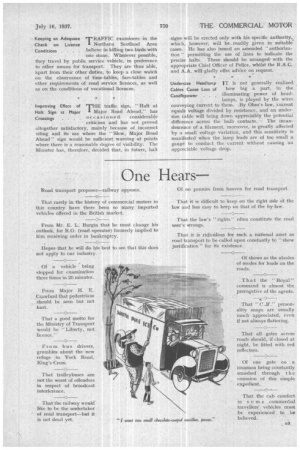 Page 37, 16th July 1937 —
One Hears—
Close
Road transport proposes—railway opposes.
That rarely in the history of commercial motors in this country have there been so many imported vehicles offered in the British market.
From Mr. E. L. Burgin that he must change his outlook, for R.O. (road operator) formerly implied to him receiving order in bankruptcy.
Hopes that he will do his best to see that this does not apply to our industry.
Of a vehicle being stopped for examination three times in 20 minutes.
From Major H. E. . ,Crawfurd that pedestrians , should be seen but not hurt.
That a good motto for the Ministry of Transport would be " Liberty, not licence.'' • From bus drivers, grumbles about the new refuge in York Road, Ring's Cross.
That trolleybuses are not the worst of offenders in respect of broadcast interference.
That the railway would like to be the undertaker • of road transport—but it is not dead yet. Of no pennies from heaven for road transport.
That it is difficult to keep on the right side of the law and less easy to keep on that of the by-law.
That the law's " rights " often constitute the road user's wrongs.
That it is ridiculous for such a national asset as road transport to be called upon constantly to "show justification" for its existence.
Of shows as the abodes of modes for loads on the roads.
That the " Royal " command is almost the prerogative of the agents.
That " C.M." personality snaps are usually much appreciated, even if not always flattering.
That all gates across roads should, if closed at night, be fitted with red reflectors.
Of one gate on a common being constantly smashed through the omission of this simple expedient.
That the cab comfort in s o in e commer6a1 travellers' vehicles must be experienced to be believed.