Passing Comments
16th July 1937
Page 36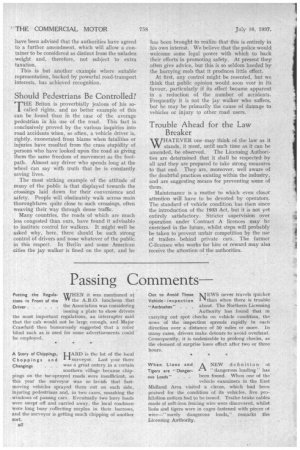 Page 37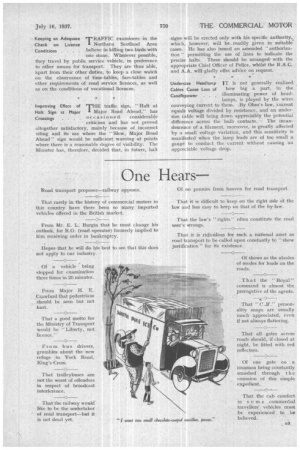 Page 36, 16th July 1937 —
Passing Comments
Close
Putting the RegulaWHEN it was mentioned at tions in Front a the VT the A.R.O. luncheon that
Driver the Association was considering issuing a plate to show drivers the most important regulations, an interrupter said that the cab would not be large, enough, and Major Crawfurd then humorously suggested that a roller blind such as is used for some advertisements could be employed.
A Story of Chippings, WARD is the lot of the local Choppings and I I surveyor. Last year there Changings . . was a great outcry in a certain southern village because chippings on the tar-sprayed roads were insufficient, so this year the surveyor was so lavish that fastmoving vehicles sprayed them out on each side, injuring pedestrians and, in two cases, smashing the windows of passing cars. Eventually two lorry loads were swept off and carried away, the local roadmen were long busy collecting surplus in their harrows, and the Surveyor is getting much chipping of another sort. .
• B2 Out to Avoid Those MEWS never travels quicker Vehicieinspection than when there is trouble "Ambushes" . . . about. The Noi-thern Licensing
Authority has found that in carrying out spot 'checks on vehicle condition, the news of the inspection spreads rapidly in each direction over a distance of ri0 miles or more. in many cases, drivers make detours to avoid overhaul. Consequently, it is undesirable to prolong checks, as the element of surprise loses. effect after two or three hours.
When Lions and A NEW definition at
Tigers are " Danger"dangerous loading" has ous Loads" . . . been found. When one of the' vehicle examiners in the East Midland Area visited a circus, which had been praised for the condition of its vehicles, five prohibition notices had to be issued. Trailer-brake cables made of soft-iron fencing wire were discovered, whilst lions and tigers were in cages fastened with pieces ot wire—" surely dangerous loads," remarks the Licensing Authority.
Keeping an Adequate TRAFFIC examiners in the Check on Licence A Northern Scotland Area Conditions . . . . believe in killing two birds with one stone. Wherever possible, they travel by public service vehicle, in preference to other means for transport. They are thus able, apart from their other duties, to keep a close watch on the observance of time-tables, fare-tables and other requirements of road service licences, as well as on the conditions of vocational licences.
Improving Effect of HE traffic sign, " Halt at
Halt Sign at Major I Major Road Ahead," has
Crossings . occasioned considerable
criticism and has not proved altogether satisfactory, mainly because of incorrect siting and its use where the "Slow, Major Road Ahead" sign would be sufficient warning at points where there is a reasonable degree of visibility. The Minister has, therefore, decided that, in future, halt
which, .however, will be . readily given in suitable signs will be erected only with his specific authority,. cases. He has also issued an amended " authorization " permitting the use of lines to indicate the precise halts. These should be arrangedwith the appropriate Chief Officer of Police, whilst the R.A.C. and A.A. will gladly offer advice on request;
iT is not generally realized Undersize Headlamp how big a part, in the Cables Cause Loss of illuminating power of head illuminating power of head
Candrepower . lamps, is played by the wires conveying current to them. By Ohm's law, current equals voltage divided by resistance, and an undersize cable will bring down appreciably the potential difference across the bull) contacts. The incandescence of a filament, moreover, is greatly affected by a small voltage variation, and this sensitivity iS manifested when the lamp leads are of too small a gauge to conduct the current without causing an appreciable voltage drop.