Hope for the Industry
16th July 1937
Page 35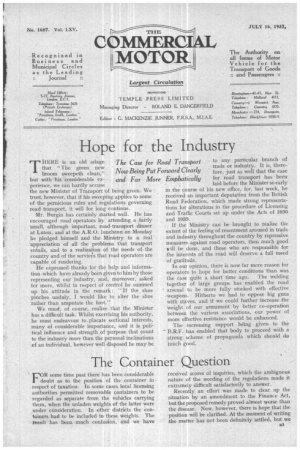 Page 35, 16th July 1937 —
Hope for the Industry
Close
The Case for Road Transport Now Being Put Forward Clearly and Far More Emphatically
HERE is an old adage that The green new broom sweepeth clean," but with his considerable experience, we can hardly accuse the new Minister of Transport of being green. We trust, however, that if his sweeping applies to some of the pernicious rules and regulations governing road transport, it will for long continue.
Mr. Burgin has certainly started well. He has encouraged road operators by attending a fairly small, although important, road-transport dinner at Luton, and at the A.R.O. luncheon on Monday he pledged himself and the Ministry to a real appreciation of all the problems that transport entails, and to a realization of the needs of the country and of the services that road operators are capable of rendering.
He expressed thanks for the help and information which have already been given to him by those representing our industry, and, moreover, asked for more, whilst in respect of control he summed up his attitude in the remark : "If the shoe pinches unduly, I would like to alter the shoe rather than amputate the foot."
We must, of course, realize that the Minister has a difficult task. Whilst exercising his authority, he must endeavour to sectional interests, many of considerable importance, and it is political influence and strength of purpose that count to the industry more than the personal inclinations of an individual, however well disposed he may be to any particular branch of trade or industry. It is, therefore, just as well that the case for road transport has been laid before the Minister so early in the course of his new office, for, last week, be received an important deputation from the British Road Federation, which made strong representations for alterations in the procedure of Licensing and Traffic Courts set up under the Acts of 1930 and 1933.
If the Ministry can be brought to realize the extent of the feeling of resentment aroused in trade and industry throughout the country by repressive measures against road operators, then much good be done, and those who are responsible for the interests of the road will deserve a full meed of gratitude.
In our opinion, there is now far more reason for operators to hope for better conditions than was the case quite a short time ago. The welding together of large groups has enabled the road arsenal to be more fully stocked with effective weapons. Hitherto we had to oppose big guns with staves, andif we could further increase the weight of our armament by better co-operation between the various associations, our power of more effective resistance would be enhanced.
The increasing support being given to the B,R.F. has enabled that body to proceed with a strong scheme of propaganda which should do much good.