A Saloon Body for Travellers' Uses.
15th March 1927
Page 46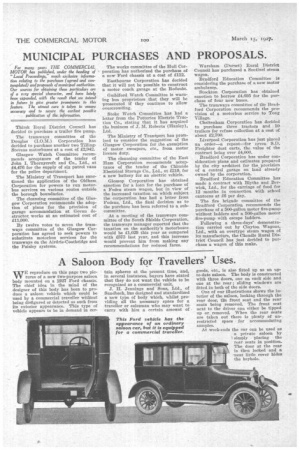 Page 46, 15th March 1927 —
A Saloon Body for Travellers' Uses.
Close
WE reproduce on this page two pictures of a new two-purpose saloon body mounted on a 1927 Ford chassis. The chief idea in the mind of the designer of this body has been to produce a saloon vehicle which could be used by a commercial traveller without being disfigured or detected as such from its exterior appearance. This type of vehicle appears to be in demand in cer
tain spheres at the present time, and, in several instances, buyers have stated that they do not want the vehicle to be recognized as a commercial unit.
J. H. Jennings and Sons, Ltd., of Sandbach, has designed and standardized a new type of body which, whilst providing all the necessary space for a traveller or salesman who may want to carry with him a certain amount of goods, etc., is also fitted up as an upto-date saloon. The body is constructed with three doors, one on each side and one at the rear ; sliding windows are fitted in both of the side doors.
One of our illustrations shows the interior of the saloon, looking through the rear door, the front seat and the rear seats being removed. The front seat next to the driver can either be tipped up or removed. When the rear seats are taken out there is plenty of un-. restricted space for accommodating samples.
At week-ends the car can be used as a private saloon by I simply placing the rear seats in position. The door at the rear is then locked and a -neat little cover hides the keyhole.