Tolls protest on Forth Bridge
14th September 1985
Page 8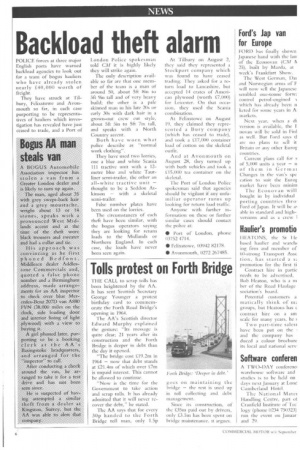 Page 8, 14th September 1985 —
Tolls protest on Forth Bridge
Close
THE CALL to scrap tolls has been heightened by the AA. It has sent Scottish Secretary George Younger a protest birthday card to commemorate the Forth Road Bridge's opening in 1964.
The AA's Scottish director Edward Murphy explained the gesture: "Its message is quite clear; 21 years after its construction and the Forth Bridge is deeper in debt than the day it opened.
'The bridge cost .£19.2m in 1964 — now that debt stands at /21.4m of which over Om is unpaid interest. This cannot be allowed to continue.
"Now is the time for the Government to take action and scrap tolls. It has already admitted that it will never recover the debt," he stated, The AA says that for every 30p handed to the Forth Bridge toll man, only 1.5p goes on maintaining the bridge — the rest is used up in toll collecting and debt management.
Since its construction, of the ,35iia paid out by drivers, only .51;3.5m has been spent on bridge maintenance, it argues.