Backload theft alarm
14th September 1985
Page 8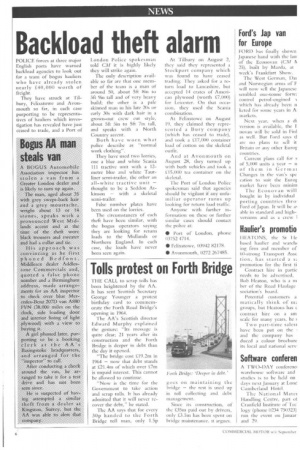 Page 8, 14th September 1985 —
Backload theft alarm
Close
POLICE forces at three major English ports have warned backload agencies to look out for a team of bogus hauliers who have already stolen nearly £40,000 worth of freight.
They have struck at 'filbury, Felixstowe and Avonmouth so far, in each case purporting to be representatives of hauliers which investigation has revealed have just ceased to trade, and a Port of
London Police spokesman told CM it is highly likely they will strike again.
The only description available so far are that one member of the team is a man of around 50, about 5ft 8in to 5ft 9in tall and of very heavy build; the other is a pale skinned man in his late 20s or early 30s with dark hair in a grown-out crew cut style, about Sit 5in to 5ft 7in tall, and speaks with a North Country accent.
Both have worn what police describe as "normal work clothing".
They have used two lorries, one a blue and white Scania 111 tractive unit with a 12metre blue and white Tautliner semi-trailer, the other an all-white tractive unit — thought to be a Seddon Atkinson — with a skeletal semi-trailer.
False number plates have been used on the lorries.
The circumstances of each theft have been similar, with the bogus operators saying they arc looking for return loads to the Midlands or Northern England. In each case, the loads have never been seen again. At Tilbury on August 2, they said they represented a Stockport company which was found to have ceased trading. They asked for a return load to Lancashire, but accepted 14 crates of American plywood (worth i:7,000) for Leicester. On that occasion, they used the Scania combination.
At Felixstowe on August 19, they claimed they represented a Bury company (which has ceased to trade), and took a A:17,(X)0 container load of cotton on the skeletal outfit.
And at Avonmouth on August 28, they turned up with both vehicles and took a 05,000 tea continuer on the skeletal.
The Port of London Police spokesman said that agencies should be vigilant if any unfamiliar operator turns up looking for return load traffic.
Anyone with further information on these or further similar cases should contact the police at: • Port of London, phone 03752 4714.
• Felixstowe, 03942 82178.
• Avonmouth, 0272 267485.