PSV MODEL APPRAISAL
14th September 1985
Page 52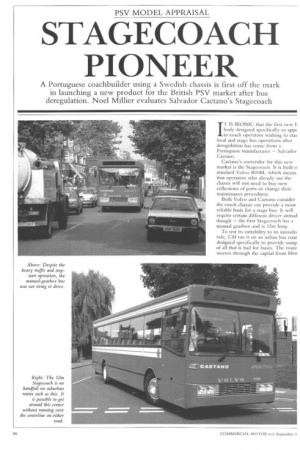 Page 53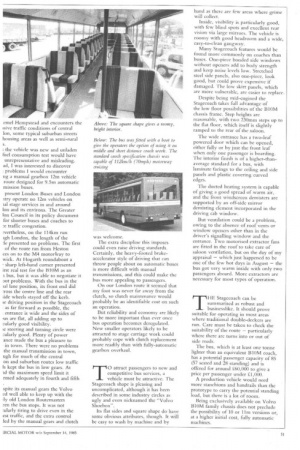 Page 52, 14th September 1985 —
PSV MODEL APPRAISAL
Close
STAGECOACH PIONEER
A Portuguese coachbuilder using a Swedish chassis is first off the mark in launching a new product for the British PSV market after bus deregulation. Noel Millier evaluates Salvador Caetano's Stagecoach
I'll.IS IRONIC that the first new F. body designed specifically to appe to coach operators wishing to star local and stage bus operations after deregulation has conic from a Portuguese manufacturer — Salvador Caetano.
Caetano's contender for this new market is the Stagecoach. It is built o standard Volvo BlOM, which means that operators who already use the chassis will not need to buy new collections of parts or change their maintenance procedures.
Both Volvo and Caetano consider the coach chassis can provide a most reliable basis for a stage bus. It will require certain different driver attitud though — the first Stagecoach has a manual gearbox and is 12m long. To test its suitability to its intendec role, CM ran it on an urban bus rout designed specifically to provide samp of all that is bad for buses. The route weaves through the capital from Hesi
emel Hempstead and encounters the [sive traffic conditions of central Ion, some typical suburban streets housing areas as well as semi-rural s.
; the vehicle was new and unladen fuel consumption test would have unrepresentative and misleading. ad, I was interested to discover : problems I would encounter ng a manual gearbox 12m vehicle route designed for 9.5m automatic mission buses.
present London Buses and London ttry operate no 12m vehicles on ial stage services in and around Ion and its environs. The Greater Ion Council in its policy document for shorter buses and coaches to :e traffic congestion.
.vertheless, on the 114km run igh London, the length of the le presented no problems. The first of the route ran from Heston ces on to the M4 motorWay to wick. At Hogarth roundabout a sharp left-hand corner presented irst real test for the BlOM as an
bus, but it was able to negotiate it Jut problems. With the bus in the ial lane position, its front end did TOSS the centre line and the rear ;ide wheels stayed off the kerb. le driving position in the Stagecoach
as far forward as possible, the entrance is wide and the sides of .us are flat, all adding up to ularly good visibility.
te steering and turning circle were :ularly good. Plenty of power ance made the bus a pleasure to in town. There were no problems the manual transmission in town, ugh for much of the central on and suburban routes low traffic Is kept the bus in low gears. At the maximum speed limit it rmed adequately in fourth and fifth
spite its manual gears the Volvo ed well able to keep up with the .ly old London Routemasters en the bus stops. It was not .ularly tiring to drive even in the est traffic, and the extra control led by the manual gears and clutch
Below: The bus was fitted with a boot to give the operators the option of using it on middle and short distance coach work. The standard caoch specification chassis was capable of 112km/h (70mpli) motorway cruising was welcome.
The extra discipline this imposes could even raise driving standards. Certainly, the heavy-footed brakeaccelerator style of driving that can throw people about on automatic buses is more difficult with manual transmissions, and this could make the bus more appealing to passengers.
On our London route it seemed that my foot was never far away from the clutch, so clutch maintenance would probably be an identifiable cost on such an operation.
But reliability and economy are likely to be more important than ever once bus operation becomes deregulated. New smaller operators likely to be attracted to stage carriage work could probably cope with clutch replacement more readily than with fully-automatic gearbox overhaul.
TO attract passengers to new and competitive bus services, a vehicle must be attractive. The Stagecoach shape is pleasing and uncomplicated, although it has been described in some industry circles as ugly and even nicknamed the "Volvo Shoebox".
Its flat sides and square shape do have some obvious attributes, though. It will be easy to wash by machine and by hand as there are few areas where grime will collect.
Inside, visibility is particularly good, with few blind spots and excellent rear vision via large mirrors. The vehicle is roomy with good headroom and a wide, easy-to-clean gangway.
Many Stagecoach features would be found more commonly on coaches than buses. One-piece bonded side windows without openers add to body strength and keep noise levels low. Stretched steel side panels, also one-piece, look good, but could prove expensive if damaged. The low skirt panels, which are more vulnerable, are easier to replace.
Despite being mid-engined the Stagecoach takes full advantage of the low floor possibilities of the BlOM chassis frame. Step heights are reasonable, with two 230nim steps up to the flat floor, which itself is slightly ramped to the rear of the saloon.
The wide entrance has a two-leaf powered door which can be opened, either fully or by just the front leaf when only one passenger is boarding. The interior finish is of a higher-thanaverage standard for a bus, with laminate facings to the ceiling and side panels and plastic covering curved edges.
The ducted heating system is capable of giving a good spread of warm air, and the front windscreen demisters are supported by an off-side mirror demisting element incorporated in the driving cab window.
But ventilation could be a problem, owing to the absence of roof vents or window openers other than in the driver's signalling window and the entrance. Two motorised extractor fans are fitted in the roof to take care of saloon ventilation, but on the day of my appraisal — which just happened to be one of the few hot days in August — the bus got very warm inside with only two passengers aboard. More extractors are necessary for most types of operation.
THE Stagecoach can be summarised as robust and businesslike. It should prove suitable for operating in most areas where traditional double-deckers are run. Care must be taken to check the suitability of the route — particularly where there are turns into or out of side roads.
The bus, which is at least one tonne lighter than an equivalent BIOM coach, has a potential passenger capacity of 85 (57 seated and 28 standing) and is offered for around £60,000 to give a price per passenger under £1,000.
A production vehicle would need more stanchions and handrails than the prototype to carry the potential standing load, but there is a lot of room.
Being exclusively available on Volvo BIOM family chassis does not preclude the possibility of 10 or Ilm versions or, at a higher initial cost, fully automatic machines.