Scottish JIC tamed by rule change
14th September 1985
Page 5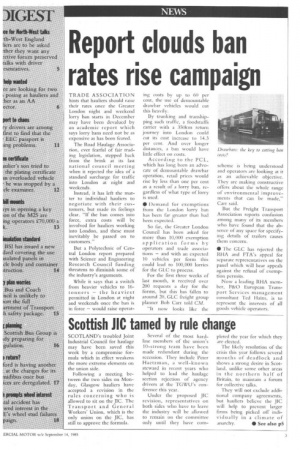 Page 5, 14th September 1985 —
Scottish JIC tamed by rule change
Close
SCOTLAND's troubled Joint Industrial Council for haulage may have been saved this week by a compromise formula which in effect weakens the more extreme elements on the union side.
Following a meeting between the two sides on Monday, Glasgow hauliers have accepted a revision in the rules concerning who is allowed to sit on the JIG. The Transport and General Workers' Union, which is the only union on the JIC, has still to approve the formula. Several of the most hardline members of the union's 10-strong team have been made redundant during the recession. They include Peter Haetzman, a well-known steward in recent years who helped to lead the haulage section rejection of agency drivers at the TGWU's conference this year.
Under the proposed j1C revision, representatives on both sides who have to leave the industry will be allowed to remain on the committee only until they have com pleted the year for which they are elected.
The likely resolution of the crisis this year follows several months of deadlock and shows a strong desire in Scotland, unlike some other areas in the northern half of Britain, to maintain a forum for collective talks.
They will not exclude additional company agreements, but hauliers believe the jIC will help to prevent larger firms being picked off individually in a climate of
anarchy. • See also p5