Report clouds ban rates rise campaign
14th September 1985
Page 5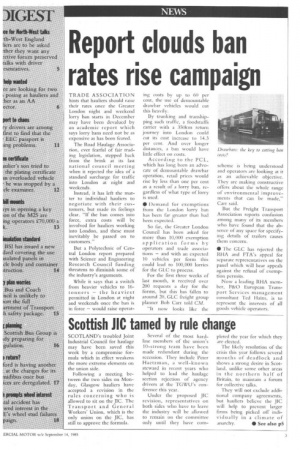 Page 5, 14th September 1985 —
Report clouds ban rates rise campaign
Close
TRADE ASSOCIATION hints that hauliers should raise their rates once the Greater London night and weekend lorry ban starts in December may have been devalued by
an academic report which says lorry bans need not be as expensive as has been feared.
The Road Haulage Association, ever fearful of fair trad ing legislation, stepped back from the brink at its last national council meeting when it rejected the idea of a standard surcharge for traffic into London at night and weekends.
Instead, it has left the matter to individual hauliers to negotiate with their cus tomers, but made its feelings clear. "If the ban comes into force, extra costs will be involved for hauliers working into London, and these must inevitably be passed on to customers."
But a Polytechnic of Central London report prepared with Science and Engineering Research Council funding threatens to diminish some of the industry's arguments.
While it says that a switch from heavier vehicles to 16 tanners — the heaviest permitted in London at night and weekends once the ban is in force — would raise operat Mg costs by up to 60 per cent, the use of demountable drawbar vehicles would cut this heavily.
By trunking and transhipping such traffic, a foodstuffs carrier with a 350km return journey into London could Cut its cost increase to 14.3 per cent. And over longer distances, a ban would have little effect on costs.
According to the PCL, which has long been an advocate of demountable drawbar operation, retail prices would rise by less than one per cent as a result of a lorry ban, regardless of what type of lorry is used.
• Demand for exemptions from time London lorry ban has been far greater than had been expected.
So far, the Greater London Council has been asked for more than 10,000 exemption application forms by operators and trade associations — and with an expected 10 vehicles per form this could lead to 100,000 lorries for the GLC to process.
For the first three weeks of last month, it received over 200 requests a day for the forms, but this has fallen to around 20, GLC freight group planner Bob Carr told CM.
"It now looks like the scheme is being understood and operators are looking at it as an achievable objective. They are making constructive offers about the whole range of environmental improvements that can be made," Carr said.
But the Freight Transport Association reports confusion among many of its members who have found that the absence of any space for specifying details of trailers causes them concern.
• The GLC has rejected the RHA and PTA's appeal fur separate representatives on the panel which will hear appeals against the refusal of exemption permits.
Now a leading RHA member, P&O European Transport Services management consultant Ted Ilains, is to represent the interests of all goods vehicle operators: